In May, we had the pleasure of meeting National Ambassador for Young People's Literature Gene Luen Yang at BookExpo America. As part of his ambassador platform, Gene challenges readers to "read without walls." He suggests: "Read a book about a character who doesn't look like you or live like you, about a topic you don't know much about, or in a format you don't normally read such as a graphic novel or a book in verse."
Gene's challenge is a great way for readers of all ages to explore the world and expand perspective. To help you meet Gene's challenge and find your next great book, in this month's Readers Write we talked with Books Make a Difference book lovers about their experience reading books outside their comfort zones.
We asked: What book have you read in the last year that stretched you outside your comfort zone? What was your experience like? What #ReadingWithoutWalls book is next on your list?
Emily V writes: "I read The Perks of Being a Wallflower by Stephen Chbosky and it was out of my comfort zone. I read it because I like reading books before seeing the movie, but it turns out that, for this one, the movie was a lot better. I didn't like the diary-style of writing. If I were to read other things outside my comfort zone, I would pick up anything by Stephen King. There are a lot of Stephen King books at my dad's house and I've read some, but I know if I were to pick up another one it will freak me out. My comfort zone and my constant recommendations are anything by Ernest Hemingway or anything by Gabriel Garcia Marquez."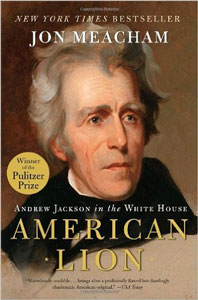 Brenda P's latest read was influenced by the current political climate. She says: "I am reading American Lion: Andrew Jackson in the White House by Jon Meacham and it is outside my comfort zone. I picked it up after walking around Barnes and Noble looking for a title, and it perked my interest. I read a lot of history, but not political history. I never thought I would read about a president's life, and I was looking for something different. I would definitely recommend it."
Nate F writes: "I wouldn't normally have picked up Ray Bradbury's book of short stories, but my grandfather gave it to me. I liked it better than I thought I would, and I would recommend it."
Carol B's recent reading has been influenced by her book club. She says while all the books from this year's list were well worth the time to read, a few were outside her comfort zone for different reasons:
"I liked The Martian by Andy Weir the best mostly because of humorous dialogue and the character's ingenuity in his ability to meet what seemed like insurmountable problems.  I have also seen the movie, but I feel the book is much more educational and entertaining.
The two books we read together, Being Mortal: Medicine and What Matters in the End (nonfiction) by Atul Gawande and Me Before You (fiction) by Jojo Moyes are both about end of life decisions. The nonfiction book was very insightful and educational on the subject of how we as a society do not face the inevitability of death and what our families have to suffer when they are trying to deal with trying to solve dilemmas we should have given them information about our feelings and desires. The fiction book was very readable and made some of the more factual based information more real. I liked both of them and would recommend both, but Being Mortal in particular.
The Night Circus by Erin Morgenstern is fantasy, which is not the type of book I usually read. There were members of our group who loved it, and several who found it very difficult to follow. I would recommend it to anyone who likes fantasy (it has had very good reviews), and I did enjoy the discussion.  It is well written, the characters hold more interest than the plot."
Carol's book club also read: All the Light We Cannot See by Anthony Doerr, Orphan Train by Christina Baker Klein, and People of the Book by Geraldine Brooks.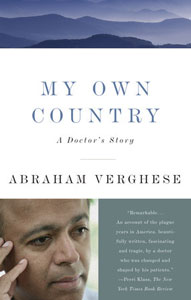 Carol adds: "One book I would highly recommend (not read with my book club) is My Own Country by Abraham Verghese. It is well written nonfiction by a doctor who is assigned work in a rural area hospital of the Smokey Mountains. He 'witnesses the arrival of AIDS in a town that had never expected this disease' or to experience the consequences of this epidemic. It is well worth the time to read. His humanity and care, and the loving families affected by this disease is heartbreaking and uplifting at the same time. I liked this book very much."
Jona H writes that he is following Library Chicken's summer book list, which is updated each week with books in each of Gene's challenge categories (character, topic, format). His favorites so far: Twin Spica 9 by Kou Yaginuma, Paper Hearts by Meg Wiviott, and the novel-in-verse Full Cicada Moon by Marilyn Hilton. Next on his list: Starry River of the Sky by Grace Lin.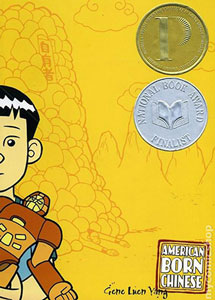 Georgena W writes: "As a teacher, I am always looking for books that challenge students' perceptions, especially that challenge stereotypes and show kids they can come to their own conclusions. To help me broaden my own view as a teacher and come up with books to suggest to kids, I read all summer long and rely on book reviewers when I create my reading list. I especially like Karen Yingling's blog. She's a middle school librarian who also writes for School Library Journal. Books like those on her 'Boys Read Pink' list could be good for Gene's challenge! To stretch myself beyond reading for kids, I am currently reading Prisoners of Geography: Ten Maps That Explain Everything about the World by Tim Marshall. It has made me think about the world's nations in a whole new way, considering how the physical aspects play a role in international relations."
Cathy S writes: "I have never read a graphic novel or even a comic book before, so I am starting with Gene's own award-winning American Born Chinese."
What are YOU #ReadingWithoutWalls?
Feature image "The Reading Without Walls Challenge" courtesy Gene Luen Yang.