We had a book-loving good adventure at Book Expo America (#BEA16) in Chicago in May, looking for Books Make a Difference stories. BEA is beautifully overwhelming, with tens of thousands of creators and fans celebrating storytelling around the world.
Inspired by multi-faceted storytelling—from famous and beloved all-stars to emerging teen authors, singer-songwriters who speak in poetry to 3D multimedia entertainers, publishers focused on social empowerment to satirists empowering citizens through humor, writers born of heartache and perseverance to those who would drop a book deal to keep their point of view—we bring you our BEA16 photoblog.
The biggest names on a shelf, who may not all be stopped on the streets for being recognized, produce lines of people seeking a moment of connection.

Head and chest above the crowd, there was no mistaking when Kareem Abdul-Jabbar walked into the Time Inc. Books booth to sign his new book Writings on the Wall: Searching for a New Equality Beyond Black and White. Since retiring from professional basketball, the six-time MVP and Hall of Famer has been a regular contributor to TIME magazine. He drew a long line of fans for his collection of essays about racism, parenthood, and his own experiences as an athlete, African–American, and Muslim.
We stole a few minutes with Veronica Roth as she signed a first look preview of her highly-anticipated forthcoming novel Carve the Mark. The bestselling author of the Divergent series, Veronica has hit critical mass in fan mail, but appreciated hearing how her books made a difference for a reluctant teen reader.
Transforming reluctant readers was certainly a well-versed theme. Jamie Lee Curtis emceed the Children's Book & Author Breakfast, reading from her new book This Is Me: A Story of Who We Are and Where We Came From.  An award-winning actress known for movies like Halloween, Trading Places, True Lies, and Freaky Friday, Jamie attended BEA in her starring role as an accomplished bestselling children's book author. While her entertaining wit garnered laughs, it was her personal story about the impact of Dav Pilkey's Captain Underpants books that left no dry eyes in the room, including Dav's. "No one has done more to convert reluctant readers," Jamie said of Dav, noting his 70 million copies in print, despite being on the most banned books list.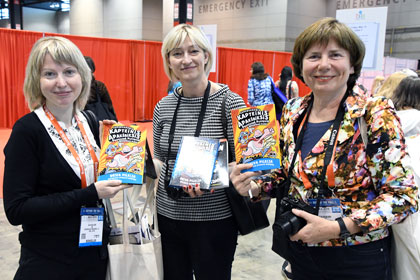 Dav Pilkey says when he was a kid, his mom let him read whatever books he wanted to read, including joke books and comic strips.  He believes that while "junk food does exist, junk books do not exist." His new book, Dog Man, is his love letter to dogs. As with all his books, he says he tries to "incorporate themes of friendship, loyalty, and compassion, because at the end of the day, it's all about love." That love reaches to all ends of the earth, literally. We met publishers from Latvia who brought copies of Kapteinis Apakšbiksis (Captain Underpants) they published in their own Latvian language, which Deiva Pilkija happily signed.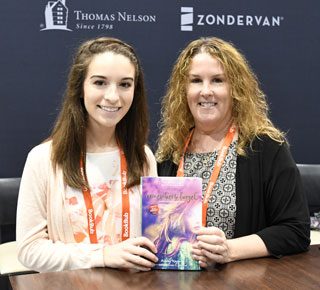 One of the great things about BEA is that you don't have to be an internationally-known bestselling author to draw a crowd of fans. In fact, you don't even have to be out of junior high or high school! We met young authors like twelve-year-old Thomas Aaron, signing copies of his first book MAGYKA: The Fifth Element, and Wattpad sensation Ashley Royer, who has more than eleven million online reads of her novel Remember to Forget. Ashley's mom discovered her writing by accident and helped her find a publisher. Most of Ashley's friends at her high school are just starting to find out about her emerging success with Harper Collins's YA imprint Blink. Her book has been picked up by publishers in the Netherlands and Spain. Ashley smiles shyly, saying "this was totally unexpected."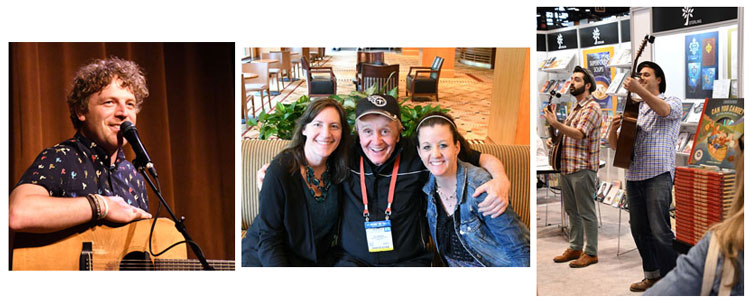 Speaking of unexpected, lest you think this trade show was the same ol' song and dance, well, there was also singing and dancing. Singer-songwriter Korby Lenker took the stage at Uncommon Ground with his engaging storytelling and fun song "Book Nerd" the night before we interviewed him in his striped socks. The Nashville musician and aspiring novelist has earned the praise of critically-acclaimed writer Tim O'Brien for his collection of short stories Medium Hero.
Country music songwriting legend Bill Anderson, who's written hit songs like "Whiskey Lullaby" (Brad Paisley, Alison Krauss), "A Lot of Things Different" (Kenny Chesney), and "Which Bridge to Cross (Which Bridge to Burn)" (Vince Gill), also penned the lyrics of his life—for the second time. Just as he rewrites songs until they are hits (he's the only country songwriter to tally a Top 40 hit in seven consecutive decades), the six-time Songwriter of the Year Award winner rewrote his own biography Whisperin' Bill Anderson after restarting his career. "I thought I was finished," he says of his first career and first autobiography in 1989. But through collaboration with younger artists, he's learned "don't give up on your thoughts and dreams just because you had another birthday."
Meanwhile, back at the Sterling Publishing booth, the Okee Dokee Brothers, a pair of children's song writers, roused a BEA crowd dancing and singing their song, "Can You Canoe?" and then signed their children's book of the same title.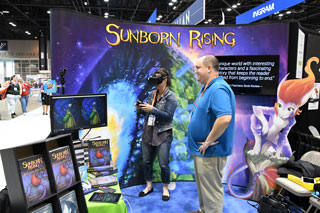 In the space where novels and technology come together, creators like Neoglyphic Entertainment are blowing up the physical presentation of books by creating 3D video games to be played from the first person perspective of a fairy protagonist, for example. They also put music to the words so you can read with the accompaniment of phenomenal musicians whose soundtrack moves with the pace of your reading to crescendo in all the right places. Sunborn Rising author Aaron Safronoff says that working with a team of digital graphic and musical artists has enhanced and enriched the story for him, too.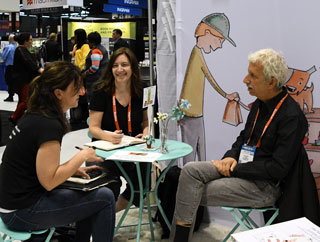 What about storytellers who are known for the screen? We sat at a cute little table in the Coralstone Press booth and talked with Blue's Clues creator Todd Kessler about his very own red thinking chair and his deeply-held belief that children have longer attention spans than we think, especially when reading a good story. His new books The Good Dog and The Good Dog & The Bad Cat reintroduce long form narrative storytelling in picture book format. He is a storyteller at heart and in all mediums he begins with the written word. He didn't set out to write a book, but he says, "the story led me to it."

Sometimes, it's real life experience that leads writers to their stories or at least to a new perspective. After his wife died, Patrick McBriarty found solace in photographing bridges. His curiosity and fascination grew into his first book, Chicago River Bridges, and eventually led him to create a series of children's books about drawbridges, airplanes, and city railways.
We met Marilu Henner and Michael Brown, whose book Changing Normal: How I Helped My Husband Beat Cancer shares their personal firsthand account of living with Michael's cancer. While some celebrities and actors at the show were surrounded by body guards, Marilu, known best for her role on TV's Taxi, welcomed everyone who wanted to talk with her about their story. Called a "force of nature" by Today, Marilu is committed to sharing their holistic approach to Michael's recovery in the hope their story will benefit others.
USMC Life founder Kristine Schellhaas signed advance reading copies of her powerful new memoir 15 Years of War: How the Longest War in U.S. History Affected a Military Family in Love, Loss, and the Cost Of Service. It was a special treat to meet Kristine in person as she is also a coauthor of Stories Around the Table: Laughter, Wisdom, and Strength in Military Life, which we featured in our May 2015 issue.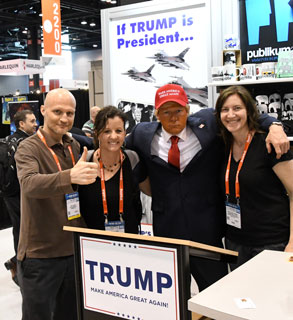 For Scott Dikkers, founding editor of The Onion, the current US political landscape led him to write Trump's America: The Complete Loser's Guide. "A lot of people are going to need consoling when Trump becomes president," says Scott, noting that he wrote the book to bring a sense of humor to the situation. He even brought a podium and Donald Trump look-alike to attract readers to his booth.
Perspective is important to writers in all genres, but for young adult fiction author Lorie Langdon, point of view was important enough to turn down a book deal and hire a new agent. Following her signing for her new book Gilt Hollow, we had the chance to sit and chat with Lorie about the challenges of cowriting and point of view in her four-book Doon series.
We met lots and lots of other really cool people at BEA16 too, including Angela Walters, who says quilting is her therapy, signing her new book Shape by Shape. In the ladies room, we met book club facilitator Ellen Elow-Mintz of Finding My Wings. We later caught up with Ellen and the wonderfully-talented Matthew Reinhart who signed an intricate castle page from his forthcoming Frozen pop-up book.
Poland was this year's guest of honor. Polish artist Daniel Mizielinski had a long line of admirers willing to wait while he illustrated their names in copies of his Maps book.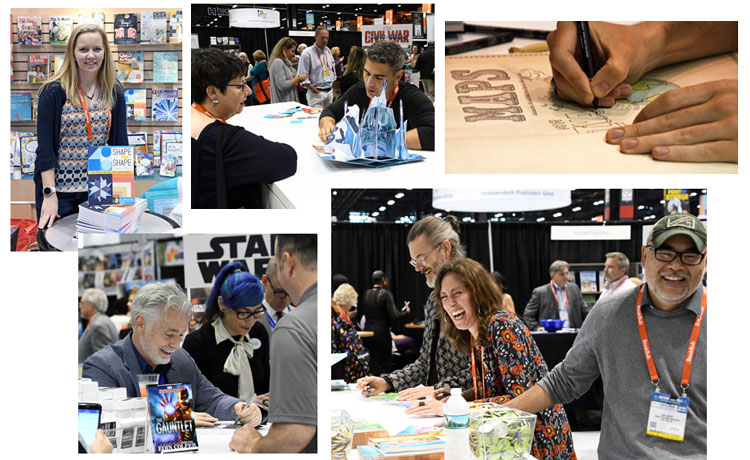 Booksellers in line for advance copies of Eoin Colfer's Iron Man: The Gauntlet said they would handsell anything he writes. His Artemis Fowl books have coaxed many fifth graders into book-loving habits. And as for legendary funny man Mo Willems, even his award-winning coauthors Laurie Keller and Dan Santat couldn't help but enjoy Mo's comedic camaraderie. All three filled the Disney booth with laughter as they signed the Elephant & Piggie Like Reading! books The Cookie Fiasco and We Are Growing!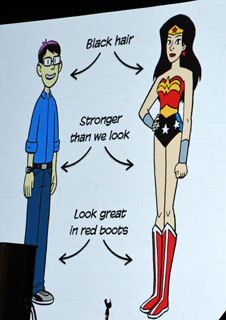 All throughout BEA16 we discovered real people writing real books, inspired by real life, making a real difference.
Our last shout out (for now) goes to the new National Ambassador for Young People's Literature, Gene Luen Yang, who reminded us that nerds, especially book nerds, are really cool people. Personable, approachable, witty, and downright likable, Gene compared himself to Wonder Woman (see the resemblance?). His book series Secret Coders combines his love of comic books with his love for teaching computer science. We pass on to you Ambassador Gene's reading challenge to "Read without walls." Gene says:
"Read a book about a character who doesn't look like you or live like you, about a topic you don't know much about, or in a format you don't normally read such as a graphic novel or a book in verse."
Perhaps one of the books we discovered at BEA16 will help you meet Gene's challenge!
Did you attend #BEA16? Tell us about your books-make-a-difference experience!
Want to know more about any of these authors? We are going behind the scenes in upcoming Books Make a Difference articles. Tell us who you want to know more about!
Photography by Karen Pavlicin-Fragnito. Feature photo clockwise from top left: Gene Luen Yang; Dav Pilkey; Jodi Picoult; Karen & Meagan with Mo Willems, Dan Santat, Eoin Colfer; Karen & Meagan with Todd Kessler.
Meagan Frank is senior writer and Karen Pavlicin-Fragnito is publisher of Books Make a Difference.
This article was first published in June 2016.