The modest bungalow looks like any other home on the tree-lined street; and it is a home, but not like any other. It is a home for history. A plaque by the front door indicates the trove inside. It reads "The Center for American War Letters." On this sunny California morning, two cardboard boxes, new arrivals, sit on a couch in the front room, waiting to reveal their precious contents.
Char Williams, the center's on-site coordinator, opens the cartons to find a large collection of correspondence from one family, handwritten letters that crisscrossed the ocean during World War II. Letters from a soldier to his wife and others to his parents, plus their letters back to him, were lovingly saved, organized, and now given to the center. One bundle of letters is in a yellowed muslin bag with a tiny American flag pinned to the outside.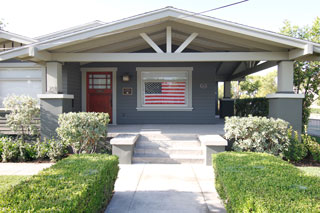 The Center for American War Letters, which opens November 5, 2014, is part of Chapman University in Orange, California. Tens of thousands of letters written by American service men, women, and their families during every American war since the Revolutionary War were collected and donated to the university by historian and author Andrew Carroll, the director of the center.
"I never thought I'd be part of anything connected to war or wartime," says Char. "Then I read Andrew's book, War Letters, and I realized this project was not about any war. It's about the people who were caught up in it. These are their stories. These are our stories."
War Letters is one of several anthologies compiled and edited by Andrew Carroll that include hundreds of letters from the collection. Others include Behind the Lines and Grace Under Fire. An earlier book, Letters of A Nation, is a collection of letters throughout America's history in war and peace.
Andrew received his first war letter because of a tragedy. His family home was destroyed by fire when he was in college. A distant relative, hearing of the loss, sent Andrew a letter, written in 1945. The relative told him the letter, which recounted the liberation of Buchenwald concentration camp, would probably have been thrown away. Realizing that many similar letters were being lost to daily accident or indifference, Andrew began collecting war letters in earnest.
He enlisted the help of Abigail Van Buren, who included a plea for letters in her Dear Abby column on Veteran's Day, 1998. Andrew says he received about 15,000 letters as a result. Through Andrew's efforts, the collection has grown to an estimated 100,000 cards, letters, and from recent wars—emails. The total is estimated because the process of cataloguing and reading them is ongoing, and donations keep coming.
When his Washington, DC, apartment and another storage unit were full and overflowing, Andrew knew he couldn't continue single-handedly to manage the burgeoning collection. He wanted a home for the priceless missives, where they could be archived, catalogued, and most importantly, read. After a long search for the right location, he chose Chapman University in 2013. The university created dust-free and ultra-violet-protective storage areas in the center, as well as display and research space, collaborating with Andrew to create the formal collection. Plans call for the collection to be digitized as well, to make it more available to a wider audience.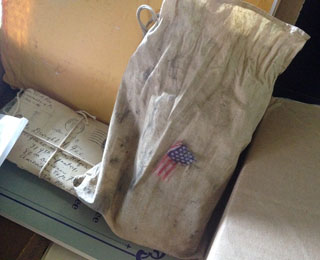 Each letter is a piece of history. One describes the horrors of Dachau written on Hitler's stationery by an American soldier who had liberated the death camp at the close of World War II. A wife donated the last letter she received from her husband, who was killed in Vietnam. A letter written by Clara Barton, who founded the American Red Cross, describes the horrors of Antietam during the Civil War. Most letters are signed with less famous names but are no less significant, even when describing more mundane events.
Andrew divides his time between Chapman, his home in Washington, DC, and his travels in search of more letters and other pieces of American history. His latest book is Here Is Where: Discovering America's Great Forgotten History. He's now on a fifty-state "Saving Our Past" tour, using proceeds from the book to put up plaques and signs at unmarked sites of forgotten history.
Like many writers, Andrew grew up in a home full of books and was influenced by them from an early age.
"I grew up in a family where reading was cherished and encouraged. My mother swears that Curious George is why I'm still somewhat mischievous today. She claims that was the start of all the problems," he says with a laugh.
Yet, Andrew never imagined he'd be an author.
"The only reason I became an English major is because I couldn't do math or science," he says. "Seriously, it was by default. Then I fell in love with certain authors, like John Steinbeck who wrote  Once There Was a War." The book is a collection of news articles by Steinbeck, who was a war correspondent during World War II.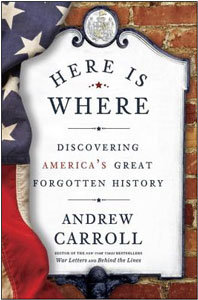 "To read his letters and his stories really had a big influence on me," Andrew says of Steinbeck. Andrew was also affected by Tim O'Brien's collection of short stories about the Vietnam War, The Things They Carried, and a series of classics, called Armed Service Editions.
"Back in World War II," Andrew explains, "publishers sent out about 123 million books to troops serving overseas during the war, everything from Hemingway and Fitzgerald to books about science and technology. They were little paperback books called Armed Service Editions."
Andrew began collecting these vintage books whenever he found them at garage sales or used book shops. Then in 2002, with America again at war, Andrew worked with large publishing houses to bring back those editions and distribute them to deployed service members. Andrew traveled to Afghanistan to distribute them.
"Giving out books to the troops was one of the highlights of my life. I went to Baghdad and Kabul to hand out books," he says. He said about a half million books were distributed, and the response was positive.
"I started getting letters written on the backs of MRE boxes from Marines stationed out in the desert saying, 'Please send us books.' That was a great experience to be able to share that passion for books."
Andrew is drawn to the combination of books, history, and the people who lived it.
"I love the war letters project, though obviously there are parts of it that are incredibly sad. To get to know these (letter writers) is what's been uplifting to me, because they are so extraordinary."
He says his shared goal with Chapman University is to make The Center for American War Letters the largest archive of war letters in the world. When asked if he hasn't already accomplished that, he admits ruefully that the Library of Congress has a bigger collection.
"Theirs are more administrative, though" he says, brightening. "What we have—what we want—are the personal letters, the love letters, the letters expressing pride from a father to his son," Andrew says. "We think of memorials as structures of stone or steel, but to me these letters are a growing, expanding memorial to the men and women who serve and their families."
They are the letters of a nation, preserved because of the vision of a dedicated author, Andrew Carroll. Now through his partnership with Chapman University, the collection has found a home.
For more information and to find out how to donate letters (originals or photocopies are accepted) to the collection, visit the The Center for American War Letters.
Andrew Carroll on Twitter: @SavingOurPast
Photos courtesy of Char Williams and Terri Barnes.
Terri Barnes writes a weekly column for military families in Stars and Stripes. A military daughter and wife, she is the author of Spouse Calls: Messages From a Military Life (Elva Resa) and the editor of Stories Around the Table: Laughter, Wisdom, and Strength in Military Life (Elva Resa, due Oct 2014).
You may also be interested in this article about Tim O'Brien.