Lauren Lewis, a member of Kappa Alpha Theta fraternity, had no way to connect with the women she called her sorority sisters. Sure, they all pledged the same sorority at different colleges and during different decades, and that makes them sisters—of the PanHellenic variety, at least. But for some, that's the only common ground. It turns out Lauren was not the only one who wanted to bridge the gap and unite the women of Kappa Alpha Theta from around the world.
Enter Reading Women, the literary offshoot of Kappa Alpha Theta (typically shortened to Theta), whose enduring motto for all members is to be "Leading Women." Since books have an uncanny way of attracting and uniting readers of all types, Lauren and other reading women in the sorority hit on the idea of a book club, knowing there must be plenty of book-loving Thetas across the globe who would jump at the chance to once again discuss metaphors, plot lines, and characterization. After all, these women initially bonded in an atmosphere of textbooks, study sessions, and various other intellectual stimuli, so it seemed only fitting to join together unfamiliar Theta faces under the same concept.
"We wanted to create a program that would connect Thetas from all over the world. We thought this would be a great way for women to still be engaged with our organization even if they were not close to an alumnae chapter," explains Lauren, who, in addition to her trailblazing book club efforts, also serves as the fraternity's Assistant Director of Alumnae Engagement.
Theta has a long history of challenging expectations and forging through new territory. Founded in 1870 at Indiana Ashbury College, now known as DePauw University, Kappa Alpha Theta was the very first Greek sorority for women in the United States and quickly became a source of refuge for female students who were just gaining admittance to a male-dominated campus. At a time when women were fighting for their right to higher education, Theta provided a safe haven for women treading treacherous ground.
Now, the Theta fraternity exists at more than 130 college campuses and has an estimated 250,000 members. Though these sisters may not have much in common with their ground breaking forbears, they all have an eye to the future and share the same goal: to become leading women.
Interested Theta collegians and alumnae can engage with their fellow sisters in a more thought provoking way by accepting the invitation to join a book club that meets once a month in an online chat forum. The inaugural Reading Women meeting, held on September 12, 2013, discussed The First Husband by Laura Dave, an auspicious book choice given that Dave, too, is a Theta alumna. Reading Women started with about 15 members; five of those women took the plunge and participated in September's first chat.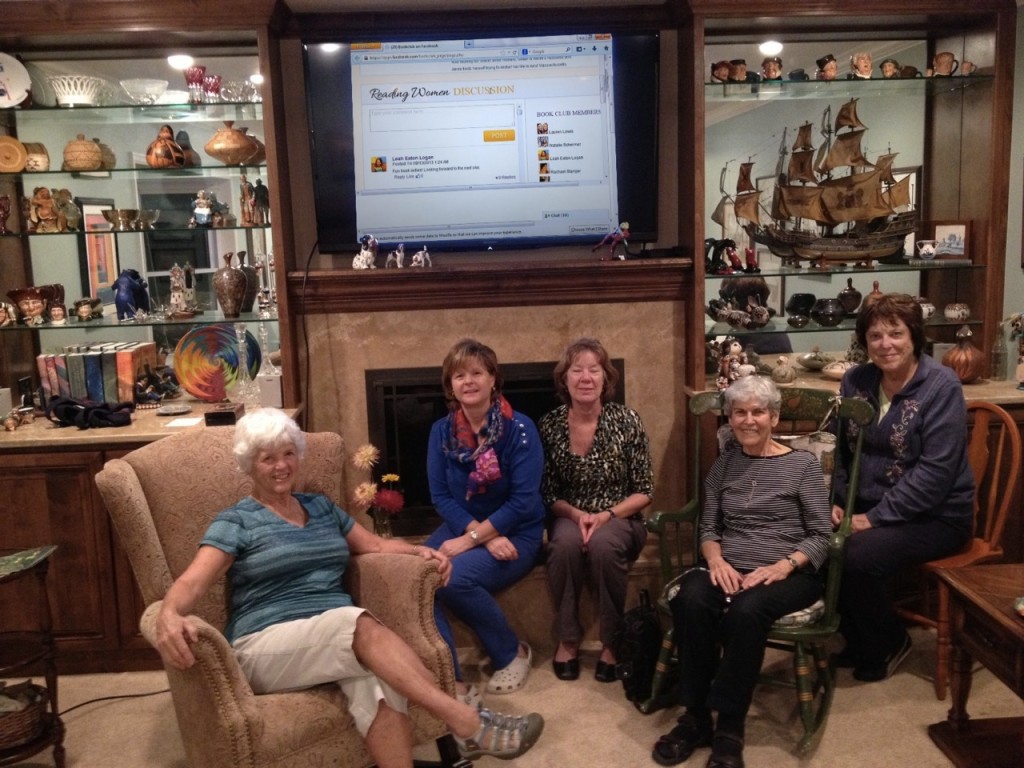 Lauren, who is optimistic that the club will continue to add new members each month, loved the level of engagement and energy the online forum created. Employing a literary device of their own, members wrote in their questions and comments without interruption in a style that can only be compared to a stream of consciousness. According to Lauren, when the forum went live, there was a flurry of dialogue flying across each sister's computer screen. "I think many women did not know what to expect, myself included," she says. "I enjoyed how fast paced it was and how you could bounce around to all of the different questions to respond without having to wait for others to finish!"
Of course, books and word of mouth are not enough to even begin to tap into the deep reserve of active Theta members. For that, Lauren and her leading women continue to rely on a tried and true combination of social media. Connecting to members through an online network that includes Facebook, Twitter, and Pinterest was one way to catch women's attention. Lauren also used Theta's web site and online newsletter to get the word out.
The feedback on September's event, so far, has been unanimous. Despite a few technical false starts, National PanHellenic Conference Delegate Mary Jane Beach loved every minute. "Overall, it was great! I liked how others brought out different aspects of the book I did not necessarily focus on."
"I personally enjoyed that it was not as structured as an in-person book club," says Lauren, who notes that many Theta women today are plagued by time constraints. From families and jobs, to long commutes and soccer practices, the laundry list of the modern woman grows longer every day.
And perhaps what sets this club apart from your standard, run-of-the-mill book club is Reading Women's total disregard for age or class. In this club, your social status, zip code, economic situation, or your career decisions hold no weight. If you have successfully pledged the Theta fraternity on a college campus somewhere within Canada and the United States between 1870 and the present, you are welcome to join.
"I think what makes our book club different from your typical book club is it consists of women ranging in age from 18 to 90. They live all over the world, but are participating in Reading Women together. While many of us have never met, we still share the values and bonds of our organization," says Lauren.
Now, Lauren is meeting sisters she never knew she had. And that, to be sure, is something the founding Theta women would be very pleased to hear.
Web: www.KappaAlphaTheta.org
Facebook: /KappaAlphaTheta
Twitter: @BettieLocke
When she's not writing or climbing the corporate ladder at her publishing job, you can find Erin scouring Brooklyn for good food and unique finds. www.ErinJSimpson.com