The Minnesota-plated RV rolls steadily on the highway toward Wisconsin. Accompanied by other RVs, campers, motorcycles, and trucks trailing boats, there wouldn't be any reason to think this particular vehicle is unique in its weekend commute. That is until you notice a poster-sized photo of ten women holding a book and the RV's name, "Book Mobile," centered on the side. Those pictured women are the chatty occupants excitedly anticipating the upcoming weekend. They talk about the parts of their lives they regularly share and occasionally reference the book and geography into which they have purposefully planned to immerse themselves for this month's book group discussion. It is a "lit trip" and one of the memorable book group experiences that inspired author Terri Peterson Smith to write Off the Beaten Page: The Best Trips for Lit Lovers, Book Clubs, and Girls on Getaways.
"Reading and travel are my two favorite things," Terri says. "When I talked to people after taking trips with my book clubs, they all said they wished their groups would do something like that. I had so much fun traveling with my book buddies, I realized I wanted to share that experience and offer ideas for how others could do it, too."
People join book groups in hopes that discussion of the books they read will enhance the reading experience. There is also an element of relationship-building that exists with most book groups. Take a book group and add in a road trip, or a visit to a place mentioned in the book, or a walk through the setting that inspired the author, and suddenly the experience of book discussion and relationship-building has a whole new layer. The Wisconsin road trip Terri's group took led the women to a member's lake home to discuss Wallace Stegner's book Crossing to Safety.
The new level of experience was so inspiring to Terri, she took on the daunting task of providing ideas for itineraries and an extensive list of titles for fifteen spots across the United States. She wanted her love of books and travel to come together in a meaningful way. She provides ideas for the short day trip as well as what might need to happen for a more extensive travel plan.
"Writing a book is very time-consuming and for most writers, it's not usually super lucrative so you better love the topic you're working on," Terri says. "I had been mulling over ideas for several books, but none seemed to fit the bill. Hence, the book came from a happy combination of factors."
Book groups were the intended audience, but Terri has found that other groups of people are tapping into her resource.
In Cape Girardeau, Missouri, the travel bureau is excited about the book Gone Girl by Gillian Flynn and the potential for readers of the book to build trips around that destination.
"Cape Giradeau is where they filmed the movie," Terri says. "It was the place that Gillian Flynn had in mind when she was writing the book, so they're hoping Gone Girl fans will flock there."
Besides visitor bureaus that recognize the potential around literary travel, other groups of people are finding value in planning trips with books in mind.
Terri says, "I know a lot of people have purchased the book to give to moms, sisters, and friends as gifts, with the idea that they will plan a trip together based on one of the destinations in Off The Beaten Page."
Literary travel can certainly enhance the book-reading experience while growing relationships, but it is also possible to use books to enhance the travel experience as well.
"I was lucky growing up to have a family that went on the occasional road trip," Terri says. "Before we went, my mom took me to the library and we picked out books that were related to the places we were going. So, for example, I read Johnny Tremain before a trip to Boston. When we walked the Freedom Trail and went to Paul Revere's house, I felt like I knew the people who lived there. That gave me a great connection to history and seeing the real places made the book even more interesting."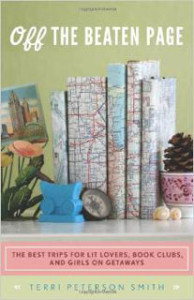 Appropriately, Off the Beaten Page begins in Boston and travels from east to west, ending in Santa Monica, California. In order to write the book, Terri went to each city with the specific intention of seeking out ideas for itineraries appropriate for group travel.
"Such a burden to have to do all that traveling," Terri jokes. "If I have to pick one place, I'd say Santa Fe is my favorite. It's rich in history and Native American culture, has great food, art, shopping, and tons of outdoorsy things to do—something for everyone. The landscape and the climate are interesting, too, which is one reason it's been so popular with writers. For example, it's the setting of Willa Cather's Death Comes for the Archbishop, which I discuss in my book."
There is a possibility Terri will pursue other versions of Off the Beaten Page.
"I have two ideas in mind," she says. "One would be a version of Off the Beaten Page for children and families. From my experience as a child and with my own children, I know that reading can bring family members together over the common experience of reading a book and ditto for traveling together. I think the combination is a fabulous way to engage reluctant readers, too. I'd also like to do an international version, especially in England and Ireland. How great to read the books by the Bronte sisters, for example, and then go to their home and tramp around the moors. Dickens, Hardy, Jane Austen … that would be wonderful."
Terri hopes readers of her book will discover that no matter whether they read fiction or nonfiction books about the places they travel, they will have greatly enhanced experiences.
She says, "The shared experience of reading a great book and traveling to where it takes place, even if it's in your own town, can enhance friendships and family relationships and create lasting memories."
Off The Beaten Page won the Independent Publishers Book Award for travel guidebook. You can read more about Terri's ongoing literary travel adventures on her blog. She says, "This year is the 75th anniversary of the publication of John Steinbeck's The Grapes of Wrath, so in the fall I'm hoping to go to the National Steinbeck Center in Salinas, California, to soak up all things Steinbeck both at the center and in Monterrey and the surrounding areas where some of his books take place. It's also wine country, so I plan to explore grapes of another kind."
Web: www.TerriPetersonSmith.com
Blog: OffTheBeatenPageTravel.com
Facebook: /OffTheBeatenPage
Twitter: @TerriWrites
Meagan Frank is an award-winning writer and inspiring speaker based in Wisconsin. She is the author of the Choosing to Grow series and is working on her first novel. www.MeaganFrank.com