A dying man lies quietly in his bed. A loved one strokes his hand and wipes away tears. A curious child watches the adults from a corner, wondering about what's happening. It's not an uncommon scene. There is so much to coordinate and process when a loved one is dying. When children are among the grieving family members, it's important to take into account how differently they see the situation and grieve. Adults don't always know what to say to kids about hospice and dying, and sometimes it is because they are trying to come to grips with it themselves.
Christine Thompson, director of creative programs for UnitedHealthcare (UHC), wrote Scarlet Says Good-Bye, a children's picture and activity book, to get a conversation started. She wants people to know their emotions are normal, and she wants to teach them about the hospice experience. By providing information in a children's book, she has been able to offer an important resource for children that contains valuable information for everyone in the room.
Christine's role at UHC includes creating useful information to make healthcare friendlier and more accessible to providers and patients. "I was working with materials trying to help people understand hospice and that they were eligible to get extra support weeks before they would take them," she says. She wanted a better way to help explain hospice services to families.
One day when Christine was on a walk with her dogs, she thought of writing a children's story about hospice. She started drafting the story and activities. When UHC had an open call for ideas for the UnitedHealth Group Innovation Day in 2011, Christine submitted Scarlet Says Good-bye for consideration. The book was awarded a Light Bulb Moment Award (voted on by UHC employees) and was then funded with support from the UnitedHealth Group Innovation Council and presented at the 2012 Innovation Day.
Paul Long, director of member experience processes at UHC, learned about the book because he is one of Christine's coworkers, but Paul became one of the first readers to personally experience the power of the children's picture book.
Paul's father-in-law became ill in October 2012. Paul requested a copy of the book for his then six-year-old daughter. During the course of his father-in-law's illness and time in hospice, Paul's daughter consistently brought her book to the hospital when they would visit him.
"I read the book to her," Paul shares. "She brought that book to the hospital when he was in hospice, and she showed everyone that book. It really simplifies what's going on and it's graceful in its presentation. It was even helpful to me to understand better what hospice means. It's not a place…it's more of a state."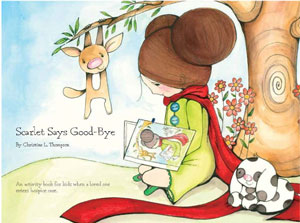 The book is written at a fourth- to sixth-grade level, but because Christine has done quite a bit of writing for people who are under tremendous and often traumatizing stress, she knows it is a level of reading many people find useful. In a previous position, she prepared literature for crime victim programming, including material meant for family and friends of homicide victims who have logistical steps to take in the wake of a horrible death.
"People don't need, want, can't comprehend certain levels of information when they are under such stress," Christine explains. When people have the added responsibility of parenting a child through a death experience the stress level is heightened.
Jennifer Holler, director of children and family support services at Covenant Hospice in Florida explains, "In my experience, explaining death to children can be quite difficult for parents. Most parents try to shield small children from what is taking place. Unfortunately, this can lead to confusion, fear, and anxiety for the child. Many parents do not know how to start the conversation or what to say. The most common question I get is 'What do I say?' or 'Should I tell him she is dying?'"
Scarlet Says Good-bye provides an easy-to-understand story about death/dying and hospice. There are activities to occupy the children during the long hours of time spent with their dying loved one, and the book provides a section to share memories.
The book pacified Paul's daughter and helped both her and her ten-year-old brother remain well-behaved during the long, boring hours of sitting and waiting at the hospital. "The book helped them understand what was going on," Paul says.
There is also a "wish" page in the book that is popular with children and families. One family bought seven copies of the book so each great-grandchild would have an opportunity to make their own wishes with the dying great-grandparent.
Kristen Hudson McGehee, education department manager for Covenant Hospice agrees. "This book gives something that not every child gets," she says, "an opportunity to create a memory with their loved one who is on hospice services. That is priceless."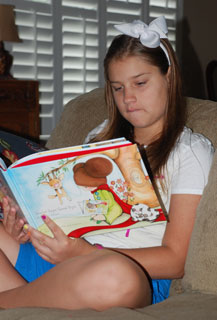 Kids want to be a part of the conversation, and Christine is struck by that each time she talks with groups of kids about Scarlet. At one particular presentation, she says, "Every hand in the room was up wanting to talk about it." They wanted to share their experiences with loved ones they've lost, and they wanted to discuss what death and dying means to them. She adds, "We really need to give kids more credit and be straight forward and direct with them. Kids have a different perspective and we could learn from them."
Christine also believes the hospice industry is changing, and thus the conversation needs to change with it. The number of hospice service providers is rapidly rising, and more and more people are dealing with advanced and/or chronic illness. Christine says the change in the industry is "changing how America is having a conversation about death."
Kristen agrees. "This book helps make the hospice experience a smoother process for parents, children, and hospice professionals because it seeks to make sure everyone is on the same page."
Creating a conversation where everyone feels included is how to start processing through the uncomfortable situation of saying good-bye.
Kristen says, "It's common for parents and family members to try to delay telling a child that a loved one has a serious illness. That's why I love the Scarlet Says Good-bye book so much. It allows parents and loved ones to ease into the discussion about hospice in a nonthreatening way and seeks to answer the questions that children will ask about what is happening, like 'Why can't the doctors fix you?' or 'Where is hospice?'"
The adults in the room can connect in a real and meaningful way with the children when they read the book to them, and then the stress of knowing what to say is alleviated.
Jennifer says, "It helps families have a very important conversation before the death, which facilitates time for memory making and goodbyes."
The benefit for the children and family members is evident, but the book also helps hospice staff members. "It is a great resource for staff," Jennifer says. "Some are not completely comfortable with talking to children about death, and this resource helps bridge that gap."
"And, truth be told," Kristen adds, "even hospice professionals sometimes have a tough time telling their own children about death and dying."
The death conversation is not a comfortable one, but there will be a time in everyone's life when the conversation is necessary. The smoother the final days go, the better chance the family has to cherish memories after a loved one has gone.
Christine hopes Scarlet can assuage anxieties as well as provide space to collect and record keepsake memories. She says, "My hope is that Scarlet might be a part of a family's life in ten years," a treasure to which families can refer when time has passed and they want to remember the person who died.
Families often struggle when a loved one is in hospice, but when Scarlet is in the room, the little grievers are not forgotten and necessary conversations can happen more easily.
Buy the book: Scarlet Says Good-bye
Cases of 30 books for support organizations.
Photos courtesy of Covenant Hospice.
This article was first published September 2013.