Sara Horn's writing is often born of her own struggles. Like the time she got angry during a sermon. Her pastor was preaching on Proverbs 31, which includes a detailed description of the "excellent wife," according to King Lemuel.
"When the pastor said, 'The excellent wife is a tireless worker,' I shut my Bible," Sara says. "Because I wasn't just tired, I was exhausted. I did not feel excellent. I felt mediocre at best and I didn't want to be reminded of that."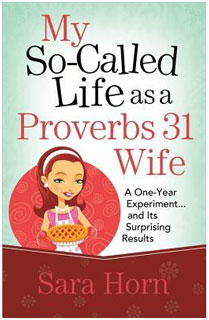 The author of God Strong: The Military Wife's Spiritual Survival Guide and several more books, a popular speaker and Bible study leader, Sara found her professional and personal responsibilities were grinding her down. That Sunday morning, she didn't welcome comparison to the super woman of the Bible. Sara's angst with the sermon led her to what she called a "life changing decision," to find out how the Bible passage applied to the reality of her life. The result became another book, My So Called Life as a Proverbs 31 Wife.
"Proverbs 31 is not just a list of what makes a perfect wife, it's an outline of principles, of being available to my family," she said. "God wasn't asking me to be perfect, he was asking me to be available."
That book lead to another, My So-Called Life as a Submissive Wife, which landed Sara on the Today show discussing the concept of biblical submission with Kathie Lee Gifford and Hoda Kotb.
Closely tied to her own experiences, Sara's books are often catalysts of change and growth in her life throughout the writing process and beyond.
"After the (Proverbs 31) book was done, and even after it was published, I was still learning and growing. I saw even more changes in my life," she says. "It changed a lot of my thinking when it came to my family, my marriage, career versus home. All the books I've written have had some life changing events for me."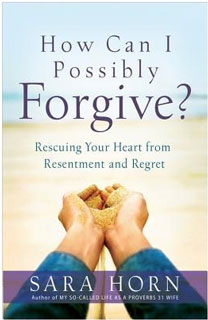 Her latest book, How Can I Possibly Forgive?, was born of her own struggles to forgive and to overcome pain. Often a writer has an experience, processes it and learns from it, then writes about it, so someone else can benefit from her experience. In this case, Sara said she's still learning from the principles she discovered writing about forgiveness, principles that have ongoing benefits for healthy relationships.
In all her books, Sara freely reveals her own shortcomings, from cooking mishaps to examples of when she was the one who was in need of forgiveness.
"Readers appreciate the honesty," she says. "They appreciate knowing there are other women who struggle, who question themselves, who worry … It all goes back to that idea of community and realizing you're not alone. We all struggle with stuff. We all deal with mess."
The concept of community is especially strong in Sara's relationships with her fellow military spouses. She wrote God Strong based on her own crisis of strength during her Navy husband's first deployment. Her ministry, Wives of Faith, including face-to-face and online connections, grew organically from that book and Sara's blog. Telling the story of her life as a military wife was and is especially important to her. Something as simple as a blog entry can make a difference to someone, she said.
"Although it seems like it's so small, there are women out there who are being encouraged by it," says Sara. "It's important to remember the power of story. You have no idea when someone will get on the computer at three in the morning looking for hope, looking for encouragement and finding that in what you are offering."
After nearly fifteen years of war, says Sara, "I think we're all getting tired, but there are still new military spouses coming in, still marriages who need that support.
"Our primary focus (in Wives of Faith) is the hope we have in Christ," she says. "Deployments don't last forever. Military life doesn't last forever. You will move on to a new season."
Sara's leadership team for her Wives of Faith ministry is part of her own community and support network.
"I have great women around me on our leadership team. They've been there for me. To share, to pray for each other, to be able to say, 'This is not a good day.'"
Sara emphasizes the importance of honesty in personal relationships, not just sharing the most quotable and Instagrammable moments of life.
"It's about shared experience," she says, "knowing you are not alone when you try and fail. It's what we do with those things that make a difference, whether we wallow in it, give up or learn to get better from it."
Sara Horn
Website: SaraHorn.com
Facebook: /SaraHornWrites
Twitter: @SaraHorn
Pinterest: @MyProv31Life
Google+: /108037920040318817441
Instagram: @SaraHornWrites
Wives of Faith
Website (new site in 2016): WivesOfFaith.org
Feature photo: Sara Horn talks about forgiveness at the Hearts at Home North Central Conference in Rochester, Minnesota. Photo by Karen Pavlicin-Fragnito.
Terri Barnes is a military spouse and the author of Spouse Calls: Messages From a Military Life, a collection from her award-winning column for Stars and Stripes. She is also the editor of Stories Around the Table: Laughter, Wisdom and Strength in Military Life, the 2014 INDIEFAB Book of the Year Awards silver winner for Best Anthology. Connect with Terri on Twitter:@SpouseCalls