Authors often compare producing books to birthing babies, and novelist Sally Hepworth finds more than the usual similarities, including the nine months it takes her to write a book. She's now awaiting the arrival of her third baby, due this month, and publication of her fourth book in February 2017. Birthing and mothering are prevalent themes throughout her writing, and the title of her forthcoming book is The Mother's Promise.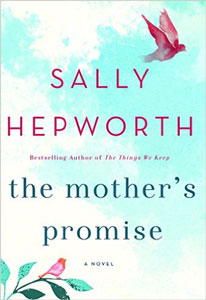 Her books are not all about having babies, however. Through the lens of motherhood, Sally examines a variety of topics in her writing: single parenting, infertility, children with special needs, aging parents.
The plot of Sally's The Secrets of Midwives, published in 2015, turns on the secrets mothers and daughters keep from one another. In The Things We Keep, published earlier this year, she depicts characters with dementia and their relationships both romantic and familial. Sally describes her newest book, The Mother's Promise, as an exploration of all the ways a person can be alone.
"Alice is a single mother. Kate is alone in a decision about her fertility," she says, listing some of her characters. "Sonja is alone in her marriage; and Zoe, through her social anxiety disorder, is alone even when surrounded by people. I wanted to explore the way people end up so alone, and how they can come together to support each other when they need it most."
The lives of these characters, like those in her other books, intersect in unexpected ways, allowing Sally's narrative to show the gray areas between her characters and their points of view.
"Things are always clear when you look at them from one angle, but when you throw in another person or two, it becomes much muddier," she says. "It forces the reader to explore a subject more fully—which as a reader, writer, and a person, I always appreciate."
Having several principal characters also means the reader hears from several voices, giving breadth to her stories.
"I always start my novels by asking myself the question—who should be telling this story? If I can find two people who sit at opposite corners of the same issue it's ideal, but even finding people on the same side—but facing different challenges—can serve the story's overall theme. In The Mother's Promise, four women all confront their own issues, which at their core are all the same: being alone."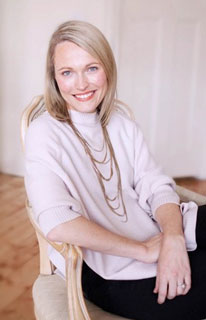 A native of Australia, Sally lives in Melbourne with her husband, Christian, and their children, Oscar, 7, and Eloise, 4. Though she writes often about motherhood, Sally insists her own mothering stories are "not nearly interesting enough" to make it into her books. Still, she says, her own experiences naturally inform what she writes.
"A lot of myself spills onto the pages when I'm writing about motherhood," she says. "The hardships, the joys, the wonder. It's a topic with so much to explore, and it's a subject so dear to me. The emotion of being a mother has a way of finding its way onto the page."
Those emotions include both laughter and tears, of course, but Sally says her crying has mostly been the good kind.
"I cried in my son's classroom the other day while speaking to his teacher, because she told me what a lovely little boy he was," she confesses. "Happiness has always been more likely to make me cry than sadness."
Being a mom makes her laugh as well, especially when she overhears conversations between her children.
"I'm often privy to listening to my kids talking to each other, and I get lots of giggles from this. The other day my son told my daughter, 'It was the worst thing that has happened to me in my whole first life.'"
Amid the laughter and happy tears, Sally says the daily grind of motherhood is her biggest challenge.
"The laundry, the tidying up, the meals!" she exclaims. This sentiment finds an echo in her writing life, where the grind for her is honing a manuscript.
"My favorite part of writing has always been the first draft—watching the characters come to life, seeing the story develop. I find the endless rounds of edits much more challenging, though it is incredibly rewarding seeing the story improve."
As a novelist and a mother, Sally makes the choices about how to spend her tightly-budgeted time with those objectives firmly in mind.
"The truth is, I am totally wedded to novel-writing, and don't tend to do any other kind of writing," she says. "The goal of writing for me has always been to entertain, so any writing that is not supposed to be shared, like journaling, feels somewhat pointless. Also, between writing a book a year and raising two—and soon three—kids, I don't have time for any other kinds of writing."
Sally doesn't feel limited by her focus on mothering, saying she hopes to explore other kinds of relationships in future books.
"Recently, I've been thinking a bit about writing about sisters," she says. "I don't have any sisters, so it's always been an interest of mine."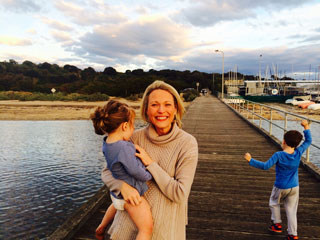 She is also intrigued by the many ways having children changes a woman's life and has started working on a book with that in mind.
"I am very interested in post-partum issues; not only the obvious ones such as post-partum depression, anxiety, and psychosis, but also the general effect that having children has on a woman, a marriage, and a person's role in society," Sally says. "I think this would be an interesting topic to explore from several points of view, as no two women experience motherhood in the same way."
Though she sees strong connections between writing and motherhood, Sally sees contrasts as well.
"There are those intense few weeks after a baby is born, and after a book comes out, when you don't sleep much and feel rather anxious all the time," she points out. "But in other ways, the two things are quite different.
"Most significantly, eventually I finish writing a book, and I move on to new characters. My children, on the other hand, are the characters of my life. They constantly grow and change, and I grow and change with them. I will never finish being their mother."
Sally also doesn't expect to be finished writing about mothering any time soon.
"I suspect writing and motherhood will always be my passions and will forever be intertwined," she says.
Web: SallyHepworthAuthor.com
Facebook: /SallyHepworthAuthor
Twitter: @SallyHepworth
Goodreads: /SallyHepworth
Photos courtesy of Sally Hepworth.
Terri Barnes is a writer and mother of three. Motherhood is a prevalent theme in her book Spouse Calls: Messages From a Military Life.
First published: November 1, 2016