Poetry is the perfect companion for readers struggling to find the commitment and capacity for lengthy reading. It is a calming, accessible, and digestible choice. Readers can sample poetry in a mere seventeen syllables or feast on an anthology. Poets have a special way of making meaning from the mundane and inspiring mindfulness.
Poets Kelsi Folsom and Nicole Gulotta have pursued reading and writing poetry as a grounding practice. Kelsi is the author of Buried in the Margins and the chapbook Words the Dirt Meant to Share. Kelsi's poetry was born from a challenging time when her family moved to Saba, a small Dutch Carribean island, in support of her husband's medical career.
Kelsi struggled to find her footing as an expat mom with three young children. She fought through depression and isolation that can come with large life changes, and she turned to poetry to help her cope.
"Writing poetry started out as a practice in the fringes of my day and quickly became a lifeline," she says. Kelsi kept a notebook in her kitchen to scribble down ideas, thoughts, and emotions while she prepared dinner.
After a difficult year of making island life work for their family, Kelsi and her husband mutually agreed that it would be better for her and their children to return to the United States while he remained on island to finish his studies. The family spent seven months apart, and the bulk of Kelsi's Buried in the Margins manuscript was written during that time. She shares that "many of the poems deal with separation, repatriation, figuring out motherhood without my spouse, and falling back in love with my husband and children after a barrage of external and internal storms. Buried in the Margins is ultimately about all the ways a woman disappears into the margins of her own life; the ways she is forgotten by her children, husband, dreams, and even herself. But, ultimately, what she finds in those margins can lead her to wholeness."
Kelsi continues to both read and write poetry, especially in difficult times. "Poetry has given me a place to be brutally honest and more full of questions than answers," she says. "Often, I find more of the meat of what I am experiencing after the practice of letting it be undone and raw. A sort of clarity emerges between the lines. The simplicity and steadiness of poetry [is] a lighthouse for me."
She encourages readers to remember the heart of engaging in good words. "The primary purpose of writing and reading is to connect and, hopefully through that connection, offer up some healing. During seasons of stress and/or grief, reading provides a safe place to explore, escape, or wrestle with the realities of life in a more accessible or palatable way," she says.
For those new to reading poetry, Kelsi recommends finding poets you connect with almost immediately. "It only takes a poem or two for me to know if an author and I are a good match. Just because someone is supposed to be an amazing poet, doesn't mean you will like them or connect with how they express themselves. That's okay. Keep reading different poets until a phrase takes your breath away."
Her favorites include: Instant Winner by Carrie Fountain, Tropic of Squalor by Mary Karr, Rose or The Undressing by Li-Young Lee, The Tiny Journalist by Naomi Shihab Nye, and What Kind of Woman by Kate Baer.
Nicole Gulotta, author of Eat this Poem and Wild Words, formed a connection with poetry early on. "[Poetry was] my first love," she says. "It was my core creative outlet for many years, and I went on to get my MFA in poetry after undergrad. I've always loved how poetry brings you back to the moment and elevates both the simplicity and complexity of our lives."
However, after graduation, Nicole found herself immersed in food writing and recipe development, all but losing her connection to her beloved poetry.
"Poetry had practically disappeared from my life, and I wasn't sure how to invite it back in," she says. "One afternoon I pulled a book of poetry from a shelf on a whim and started reading a poem about a woman at a market, choosing vegetables and putting them in her basket. I immediately realized I could make a recipe from all the food references in the poem, and that was the spark for EatThisPoem.com."
The blog inspired the book Eat this Poem, and Nicole sought to explore the similarities between food and poetry in ways that were relatable and meaningful.
"I was especially drawn to making poetry feel more accessible for anyone who has ever felt like they don't understand poetry," Nicole says. "In difficult times, reading poetry feels like a balm, like someone else understands what I'm going through because they've felt it before."
The coronavirus pandemic colored the world's everyday actions and choices, including readers' ability to concentrate and delve deep into a literary work. Nicole shares that poetry could be the answer.
"Reading poetry can be such a grounding practice, especially in uncertain times," she says. "Also, it's short! You can sit down and read two or three poems and be on your way—it's not the same experience as committing to a novel."
She recommends anthologies as an introduction to poetry, particularly The Poetry Remedy: Prescriptions for the Heart, Mind, and Soul edited by William Sieghart.
"[Anthologies] expose you to a lot of different poets and styles, and from there you can note who you're drawn to and seek out their books," she says. "[Sieghart] includes poems to support all sorts of feelings like anxiety, fear, and so on, and shares reflections about each of the poems."
For those new to writing poetry—or reinvigorating their love for reading or writing it—Nicole is skilled at putting poetry within grasp.
She launched the #30DayHaikuProject to enrich the poetry experience of both readers and writers. Participants are encouraged to follow provided prompts and write a haiku every day for thirty days. They share their work on social media with #30DayHaikuProject.
"[The challenge] initially grew from my interest to do something for National Poetry Month," Nicole says. "I thought it would be a one-time event, but I underestimated how interested people would be! For a challenge like this, brevity felt important, especially when encouraging someone to participate every day for a month. Seventeen syllables is manageable."
The project has been an entry point back to poetry for participants Lorren Lemmons and Megan McCoy Dellecese, who joined the #30DayHaikuProject to foster creativity and sense of community while adjusting to life in various stages of the COVID-19 pandemic.
Megan describes her challenge experience as a reminder to "slow down and reflect upon my surroundings more. Mindfulness through poetry has been an unexpected gift." A librarian with three children, Megan found that the pandemic quarantine initially sent her and her husband into 24/7 work mode from home.
"We burned out pretty early on and learned to set more boundaries, but at the same time I felt the need to lean into my favorite method of catharsis: writing," she says. "The idea of bite-sized pieces and consistent syllable counts seemed like a fun challenge. It also provided me with a focus and sense of control; posting it to Instagram gave me a greater sense of community. At a time of intense isolation, I felt refreshed and excited to be part of something creative and beautiful."
Lorren shared a similar experience. Also a wife and mom with three children, she started the challenge because she loves poetry. "But it intimidates me," she says. "The #30DayHaikuProject had structure, accountability, and was small and doable. It felt perfect for me. The greatest gift was the dailiness of it. It feels really good to be creative at least once a day, even if it's only for a few minutes."
Lorren's time with the haiku project awakened a desire to read more poetry. She invested in #TheSealeyChallenge next.
"It was started a few years ago by a poet named Nicole Sealey, who made the goal to read one poetry book every day in [the month] of August. I only managed 21 [days], but having that much poetry in my day-to-day life has been amazing. There are certainly poems that go above my head and certain poets that aren't for me, but it's becoming more and more a part of my daily life now."
Both Megan and Lorren are reading poetry on a more regular basis now. Megan discovered that she tends to prefer traditional poetry.
"…Particularly anything relying upon the relationship humans cultivate with nature. I could read Mary Oliver all day long, [especially] American Primitive. I also appreciate Robert Frost and Emily Dickinson. I am working on collecting more modern and diverse voices such as Audre Lorde and Maya Angelou."
Mary Oliver is also one of Nicole's favorite poets. Nicole says her directive to "pay attention, be astonished, tell about it" resonates deeply with her. While this statement can apply to all writing, Nicole sees the magic especially in poetry.
"Poets have a special way of making meaning of the mundane," she says.
To find new poets, Lorren recommends literary journals and the Best American Poetry series.
"Usually I only resonate with about half of the poems I find, but it's good exposure to more complicated forms," she says. Her other favorites include Bright Dead Things by Ada Limón and How We Became Human by Joy Harjo.
Poetry—in all its forms—continues to be a feast for newcomers and seasoned alike, whether they are reading, writing, or a bit of both. Perhaps a quote from English poet Samuel Taylor Coleridge (1772–1834) puts it best:
"Poetry has been to me its own reward; it has given me the habit of wishing to discover the good and beautiful in all that surrounds me."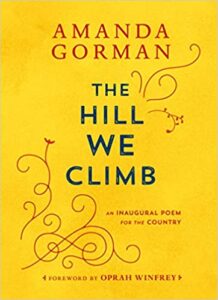 It has been a time in our global history where good and beautiful words are more necessary than ever. Amanda Gorman, the first National Youth Poet Laureate, read a rendition of her poem "The Hill We Climb" at the 59th Presidential Inauguration. Her performance sparked a renewed interest in poetry for readers and reminded the world that poetry is timeless literary nourishment.
Kelsi Folsom
Web: KelsiFolsom.com
IG: @KelsiFolsom
Nicole Gulotta
Web: TheWildWords.com
IG: @NicoleGulotta
Megan McCoy Dellecese
Web: MegActsOut.com
IG: @MegActsOut
Lorren Lemmons
Web:LorrenLemmons.com
TW: @LLTheStoryGirl
IG: @LorrenLemmons
The #30DayHaikuProject and #TheSealyChallenge can be started at any time.
Prompts and instructions for #30DayHaikuProject: TheWildWords.com/haiku
Interview with Nicole Sealy, #theSealyChallenge: The Rumpus.
Lindsay Swoboda is a writer and the host of The Choosing Brave Podcast. Her work has been featured in Legacy Magazine, Military Spouse magazine, and Coffee + Crumbs. She is the former editor in chief of the newsletter for the US Embassy in Quito, Ecuador. She welcomes connection on Instagram @upliftinganchor.
This article was first published April 2021.