Walk into any bookstore, and you'll find shelves of books covering almost any aspect of parenting, from making your own baby food, to creative discipline, to dealing with teenage angst. Once in a while, one of these books will resonate with a parent, relaying a message that's insightful, personal, and timely. Sometimes the book isn't even about parenting. It might be a fictional story with a life-changing message. It could even be a children's book that helps the family through difficult or challenging times.
Often, parents share with other parents their successes and struggles raising children. For many, there's a certain book that has had a significant impact on them or on their family as a whole.  It's these books that parents go back to again and again.
In this blog hop, we celebrate the difference books have made for parents around the world. The following blogging parents shared with us how books have made difference for them. Follow the links to read their full blog posts. Participate in the hop below and add your own post about ways books have helped your family or you as a parent!
"Help in the Early Years"
One of the books that helped me during pregnancy and in the infant stages of my children's lives is a series called What To Expect…  They have several books, but I think the one I enjoyed the most was What To Expect When You're Expecting.  This book takes you step by step through the physical and some of the emotional changes you and your child go through during pregnancy and the first year.  After reading that book, I came upon the Christian midwife books, my favorite being Christian Midwifery by Betty A Peckmann. Putting these two resources together really helped me navigate my pregnancies and the baby years of all six of my kids.
— Adventures in Homeschooling and Family Life blog by Melinda Weiser
"How a Children's Book Made Me a Better Daddy"
When I found out I was going to be a daddy, I was ready to jump right in!
After purchasing a stuffed animal, I decided to get a book. A children's book. We got home and set the book and stuffed duck on the shelf and waited. Then, one day I got the wild idea that I'd read the book to the baby while it was in mommy's tummy! Every night before going to sleep, I would read to my wife's tummy. And I never felt more foolish in my life.
I read every night until the day we found out we lost the baby. Then, with tears pouring down my cheeks, I read that book one last time.
Fast forward three months. We decided to try again. She got pregnant almost immediately, and I started reading that same book the day we found out. And every single night, I read Kitten's First Full Moon.
The day of Little Man's arrival came. My wife had to go through an emergency C-Section. They called me over to cut the umbilical cord. Little Man was kicking and screaming. I stuck my head down and said, "Hey buddy, what's the matter? It's nice to finally meet you."
While my wife was getting stapled up, my son and I paced in our room waiting for her to return. He never cried. He nuzzled into my neck and made soft cooing sounds. I was talking to my mom on the phone and she was at a loss for words. She finally said, "Scotty, he already knows you."
And that's when I knew, that reading to my son each and every night while he was in utero, had made me a better dad.
—Dads Who Change Diapers blog by Scotty Schrier
"Good Examples"
When our children were little, we read a lot of books together. One of our favorite series was the Oliver and Amanda Pig books written by Jean Van Leeuwen. The stories mirrored our life together: cooking, cleaning, gardening, playing, and resolving conflicts. I learned so much from Mama Pig! When I accidentally stepped on a toy car and landed on my backside, I remembered how Mama Pig controlled her anger when she slipped on the wet bathroom floor. She joined in the soapy fun. Later, they all mopped and dried off the floor. Likewise, after a good laugh, we all picked up the toys.
Over and over, the depictions of simple family life reinforced my desire for simplicity and the value of cherishing all the small moments. I learned to be patient as we baked bread together, to spend time throwing rocks in the pond for the fun of hearing the plop and watching the ripples, to hug harder and more frequently. Mama Pig *showed* me how to be a mother who was firm yet gentle, hard-working yet fun, in control without being overbearing.
—Reading, Writing & Ruminating blog by Vijaya Bodach
"You're Wiser Than You Think"
When my eight-year-old was a newborn, I felt lost on the path of motherhood. (I should have been confident – I already raised four kids who were ages 14 and up when this baby was born.) I was feeding on demand E-V-E-R-Y time the baby fussed, and yet never clued in on why the baby fussed. My husband didn't understand why I had lost my way in mothering. The pediatrician dismissed my concerns. I knew I needed help.
I read yet another book – On Becoming Baby Wise. This book (love it or hate it) figuratively hit me upside the head with the realization that I had to bring MY brain to this job of mothering. All the other baby books I had read encouraged feeding on demand. To me, that meant every time the baby fussed, I should breastfeed to comfort, feed, and care for that baby. Baby Wise allowed me to think about the reasons behind the fussing.
— Under the Maple Leaves blog by Jan Prahl
"Cultivating Obedience"
Shepherding a Child's Heart by Tedd Tripp was given to us by a friend who knew we didn't want to be legalistic with our kids but also didn't want to be so permissive that they didn't understand right, wrong, and societal expectations. We devoured Shepherding in just a few days and began to implement the tenants in it.  We noticed immediate changes in our children.  They understood the PURPOSE of obedience and the safety it afforded.  They began to have a shift from being "good" outwardly to making good choices from internal motivation.
This book is a "chew up the meat and spit out the bones" kind of approach. Every suggestion may not work with every family, but there is still so much wisdom to be gleaned from it. We are adoptive parents to five Filipino sons, we have two biological children, and we now run a shelter for street kids.  In every situation, we have been able to use grains of truth from Shepherding to reach the hearts of the children we work with.
—Bringing Home Zeke blog by Nikki Esquivel
"Loving to Read, Loving to Learn"
I have always loved to read. Books have definitely shaped who I am with respect to the various roles I play in my life – including motherhood.
I was fortunate enough to marry a man who loves to read as much as I do.  When we became parents, we both agreed that reading to our children would become a part of our parenting routine.
We started reading to our sons when they were old enough to sit up. We read to them in the morning, in the afternoon before naptime, and at nighttime before they got to bed. It is a special bonding time that is peaceful, calm and uninterrupted with our children.
It's wonderful to see how much they learn from reading. Our oldest can recite the words of an entire book – Little Blue Truck – from memory because of how many times we've read it to him. He learned his ABCs, numbers, colors, and shapes all from reading. One night when our youngest was 15 months old, I picked out a random book about numbers and counting. He absolutely loved it and would ask for it repeatedly at naptime and bed time. Three months later, he surprised us all by counting to ten as he was walking down the stairs! I had no idea that he could even count.
There is nothing that gives us greater joy than to snuggle with our kids and read their favorite books with them.  We can tell they love it too – if we ever try to put them to bed without reading at least one book – oh my, do they protest indeed!
—Island Girl on a Farm blog  by Chrissy Marquardt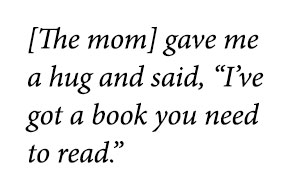 "Help for Struggling Parents"
In 2007, I was living in the vortex of a huge family hurricane. We had moved to a new town. My husband was working away from home during the week. We had two small children and a third on the way. I had no friends or family for support.
My oldest was only three years old, but during the few play dates we were invited to, he hid in a corner and cried. There were also a lot of other issues that, being a first-time mom, I didn't recognize as atypical. Then, a new family moved to our church. I noticed that they weren't invited to play either, so I decided to reach out and take a chance.
I told the mom about my struggles. She listened quietly and nodded; then she simply gave me a hug and said, "I've got a book you need to read."
It was called The Out of Sync Child. The book promised to walk me through different types of disabilities and possible solutions for my son's quirky behaviors. I had never considered he might have a disability.
I quickly found myself sucked into the text. It outlined in detail the similarities and differences children with disabilities may have in a way that an exhausted mother could understand. I read until I came to a quiz. Was I surprised when my answers pointed me definitively to the autism spectrum!
It was like someone had flipped a switch in my heart. I was both sad and elated at the same time. If this was really what we were dealing with, it answered so many questions. It meant that my son had real needs. Then it really hit me, hard: there were thousands of people out there that could help us – clubs, foundations, books, therapies, doctors, specialists, and best of all, support groups.
I finished reading the book, and I cried that night. I woke up in the morning able to look at my little boy with a new set of eyes. I promised him we were on this journey together and we'd find the people we needed. Then I called my friend and thanked her for being brave and kind enough to give me that book. It changed our lives for the better, forever.
—A (relatively) Simple Life blog and Scribble Leigh by Jenny Holt
"Creating Traditions/A Mouse That Inspired"
Certain stories and books have a way of weaving themselves into the fabric of our lives. When my daughter was small, Kevin Henkes' Lilly's Purple Plastic Purse was one of those books.
In addition to charming characters who transcend mousehood to deal with anger, disappointment, and frustration, Henkes provides illustrations that appeal to not only the child listening to the story, but also to the adult who is reading it.
But parenthood is not all cuddling and storytelling. Some days are hard on both sides of the family equation. At the end of one particularly challenging day, when I kissed my daughter goodnight, a line from Lilly came to mind. "Today was a difficult day," I reminded her. "Tomorrow will be better." We both giggled, and a tradition was born.
As parents, we hope to weave messages of inspiration into our children's lives. But some days leave us devoid of inspiration. And on those days, I'm grateful for the masterpiece that is a beautiful picture book.
—Six Children and No Theories blog by Lisa Hess
—-
Which books have made a big difference for you? Maybe it was on a road trip. Or after the death of a pet. Maybe it was during a difficult time in your marriage or during a family transition. Perhaps it was a book that made a non-reading kid into a book lover. Share how books have made a difference in your family by writing a blog post of your own. Put a Books Make a Difference banner on your post and link up with us. We encourage all participants to visit others' sites and comment often. Thanks for taking part and we hope you have a wonderful time celebrating mothers and fathers in May and June!
Samantha Bell's articles, stories, and poems have been published both online and in print. She's an author and illustrator of more than 20 books for children. Connect with Samantha at her website, on Facebook, or on Twitter.
Parent Hop: