Readers around the world love books for their stories, information, and inspiration. Many also enjoy the process of finding a useful, personalized system for storing and displaying the books they choose to keep.
If you've never given much thought to how your stacks are organized you might be surprised to learn there are many, varied methods. The values and motivations behind the systems are as diverse as the approaches, with a key consideration being the higher importance of form or function.
In this month's Readers Write we asked, "How do you organize your home library, and why do you organize it the way you do?"
Instagram influencers Joanna Teplin and Clea Shearer, of The Home Edit and the wildly popular Netflix series Get Organized, have brought national attention to a trend in book organization: rainbow order based on the color of the book spine or jacket. Seemingly, they are convincing a generation of readers to toss out the standard Dewey Decimal or genre-based arrangements in favor of a Roy G. Biv approach.
Book owners in the rainbow camp claim this system is a great visual help to quickly locate books because, while titles and authors' names are quickly forgotten, it is easy to remember a book as being blue or white. However, there is a greater pull for this method: it looks pretty.
Kelli, who has chosen the by color method in multiple rooms in her home, offers that this setup (in her office and family room) adds an artistic element to the room and makes keeping both the books and the room more orderly. She adds, you always know where a book needs to go when you are finished.
Into this same category of people who consider a book collection a decor statement, are those who face their books spine out and those who decorate with piles or stacks of books on tables, mantles, and in vignettes. There is nothing categorically wrong about using books as home decorations, but for many, having this as a guiding motivation leaves a lot to be desired.
Despite this growing, colorful movement many traditionalists have eschewed the rainbow in favor of more conventional methods. For those with larger collections requiring shelves and serious storage hardware there are countless classifications that people use.
Casey, a trained librarian, says that before having children and being overtaken by their collections, she used to organize their history books chronologically, and then the rest were grouped by subject. Her fiction was sorted alphabetically by the author's last name and then in series order. The bookshelves were beautiful and dusted, with the books pulled forward on the shelves even with one another in clean, lovely lines.
Now with three young boys, Casey says her book organizing priorities have shifted. For her children's book organization, sometimes function and practicality needs to trump order. To really engage kids, having the books be easy for them to sort and access is really important. Colorful bins or baskets of books organized by topic can accomplish this.
Beyond physical shelves, many bibliophiles have digital shelves they codify by using apps like Libib and Goodreads. Lala uses a digital app that allows her to scan books into a database to track her collection. She knows how many books she has and says the best benefit of this digital organization is that when she's out at a bookstore looking to add to her collection, she can quickly search to see if she already has the title, thus preventing repeat purchases.
As Casey and Lala express, most book organizing and shelving systems serve multiple purposes: ease of ordering, quick assessment of inventory, and a sense of mental peace in trusting that books can be located easily.
It seems that no matter if a book collector's motivation is visual or practical, there are a variety of other methods beyond traditional alphabetical-by-author order that book collectors employ. Some popular approaches include using the Library of Congress scheme, fiction ordered by series, reference and larger books stacked together, books boxed up that have already been read—prioritizing shelves with to-be-read books only, by genre, and by size. Angela, who emphasizes grouping by size, claims that keeping books grouped by size is the most aesthetically pleasing, far superior to rainbow order.
Even those readers who claim to live without a system, have a system. Nancy, for example, says that while she raised her three daughters to be avid readers, they would not, did not, and still will not follow her organizational methods, so she gave up on that a long time ago. As long as the books are read, make it back to the shelves, and are not placed on top of other books, she's happy.
Looking for tips to revamp your own book storage and arrangement? Emma, a homeschooling mother of four with a large and varied collection offers a fairly straightforward system for organizing. It forces book collectors to make several important decisions that will point to why and how they use their books.
The first step she recommends is to CLASSIFY. By thinking through what types of books are in the home it allows readers to decide how accessible the books need to be, which rooms they need to be stored in, and who needs to be able to access them.
Emma's home library is made up mostly of children's literature (board, picture, chapter books, and nonfiction), her own personal collection (fiction, nonfiction, cookbooks, and professional development books), and her husband's books (commentaries, Bibles, and biographies).
After classifying, the next step Emma recommends is to INVENTORY book storage to see which shelves and bookshelves can be used without bending spines, doubling books on shelves, and compromising the integrity (and safety) of the shelves.
Step three is to SORT and SCAN. Emma uses the app Tiny Cat, which also allows checkouts, so she can keep track of who borrows books from her collection.
Her fourth and final step is to ORGANIZE. It is at this point that books begin to get grouped by fiction, biographies, and nonfiction. By maintaining this system, Emma and her family get the most joy and satisfaction out of their beloved books.
Not sure if you and your shelving style most identifies with Kelli, Casey, Lala, or Emma? Check out Matt Blake's Six Book Tribes Quiz (alphabetical, genre, color-coded, chronological, by value, or stack-n-pack) or Michael Rennier's Book Personality Assessment (Aristocrat, Auteur, Librarian, The Normal, The Resigned, The Capitalist, or The Student).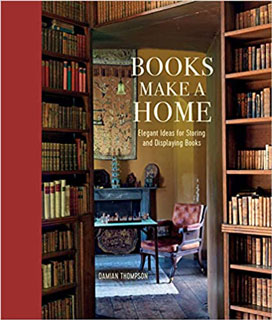 There are also, of course, books about organizing and displaying a home library, such as Bibliostyle: How We Live at Home with Books by Nina Freudenberger, Books Make a Home: Elegant Ideas for Storing and Displaying Books by Damian Thompson, and For the Love of Books: Designing and Curating a Home Library by Thatcher Wine.
There are many methods readers use to creatively and practically store their book collections. Whether their organization is purely decorative and colorful, aided by a digital system, made simple for access by young readers, or cataloged by author, alphabet, or call number, there is one thing most book lovers can agree on: There is no such thing as too many books!
What is your favorite way to organize and display your book collection? Share your tried and true methods in the comment section below or on Facebook or Twitter.
Claire Wood is a proud military spouse, writer, and mom. She is co-host of the Advice Not Given podcast. With every military move Claire relishes the opportunity to reevaluate and reorganize her own precious book collection.
This article was first published February 2021.