Nancy Polette's first published poem made its mark on the pages of a children's magazine when she was ten years old. At about that same time, a 34-year-old American named Virginia Hall was limping her way onto the Gestapo's most wanted list as a one-legged World War II spy in France. The two women were separated by thousands of miles and two decades of living, but their stories would eventually cross paths. As unlikely as a connection might be between an international spy and an elementary school teacher/librarian from Missouri, the collision resulted in Polette's 172nd published book, The Spy with the Wooden Leg: The Story of Virginia Hall. Polette, a lifelong writer and teacher, spent five years chasing the incredible story of Hall's life as a British and American spy in order to write the book. She wrote it for the children she feels are the most important to catch as readers, and she knows Hall's story is just the kind of story that will grab them.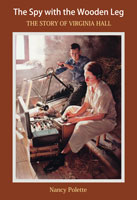 Polette has taught at both the elementary and college levels, instructing teachers how to teach and best use school libraries to engage students. She began her passionate journey in and through books in a time when the world was starkly different than it is now.
As a child in the 1940s, Polette was accustomed to chalkboard instruction, writing pen to paper or occasionally typing with a typewriter. It was a time when world wars might have gone unnoticed were it not for the scratchy radio broadcasts, the bike-delivered newspapers, or handwritten letters that told the story. It was in that time, and in the quieter spaces in Missouri, where Polette discovered her passion for writing. Over the course of the next seventy years, she would write and teach about ways to protect and inspire the fledgling reading flame of children, but especially for the unique fire that exists in 9-, 10-, and 11-year-old kids. Throughout her life, she has identified the kinds of stories that engage children in a way that makes reading both fun and educational.
"Reading is knowledge," Polette says, "and I'm worried if kids don't become passionate about reading, they won't be as well-educated as they should be."
Virginia Hall's story is one of a number of children's stories Polette has written, but its recent publication has come only after she invested countless hours, and millions of words, to the education of others.
Polette has mostly written about techniques to use books and reading to teach children. Her writing career took off when she wrote to fill the void for classroom teachers who were learning to use the new federally-funded school libraries. Starting in the 1960's, Polette had agreed to take over the role as librarian for the elementary school where she taught. She was an elementary classroom teacher in the Pattonville school district from 1954-1979, and she doubled as a school librarian for part of that time.
She recognized there were not nearly enough resources available to teachers who wanted to best use the libraries, so Polette authored several guides and resources to teach teachers how to better use books in their classrooms.
"I hope my books for teachers help them to be better teachers," she says.
Polette eventually became a sought-after presenter and trusted resource for making good use of the school library. Through the course of her life, she has logged more than 2 million miles traveling the country to present and train teachers in library-use practices.
It is a certain-aged child who most motivates Polette's drive to educate. She feels some of the most important grades to reach are the 4th, 5th, and 6th graders.
"That is the age they need to be exposed to intense reading," she says. "We need to catch them as readers then because in middle school it's almost too late."
That opinion is why Polette's children's books, including Virginia Hall's story, are for the reading level of that age-group.
"I want to give kids something to chew on without being preachy. To give them something to think about," she says.
Researching extensively both in the United States and in Europe, Polette was able to employ primary resources and archived documents to build a complete version of Virginia Hall's story.
"I like to do research," she says, "especially if it results in a children's book. It's fun. It's like opening a treasure chest."
Some treasures take longer to unearth, but the end-goal of presenting real-life stories that can capture the imagination of children motivates Polette to continue moving from story to story.
"When I finish a book," Polette says, "I have withdrawal. I ask, 'What am I going to do next?'" She hasn't run out of ideas quite yet.
The world may have changed during Polette's 82 years, but what hasn't changed is the window of time in which the best stories can capture child readers, or the need to have motivated people like Polette who are inspired to write them down.
Nancy Polette currently lives in O'Fallon, Missouri, where she continues to write as well as instruct college students studying education at Lindenwood University.
Web: www.NancyPolette.com
Buy: The Spy with the Wooden Leg: The Story of Virginia Hall