Virginia Hall was one of the most groundbreaking and feared spies operating during World War II. Infiltrating a man's world where few expected her to go, and using that underestimation to her advantage, Virginia found and operated drop zones, recruited informants, and ran a network of secret agents. When her identity was later compromised, she disguised herself as a graying old milkmaid, filing down her teeth to resemble those of the peasant woman she claimed to be.
Writer Erika Robuck, who writes about Virginia in her biography The Invisible Woman, says that being a woman in Nazi Germany was an asset for the female spy.
"Many Nazis did not think women were smart or courageous enough to take on spy roles, especially if they held no attraction for them," Erika says. Virginia, a woman who preferred to remain in the shadows even after her work as an agent was over, went largely unheralded during her own lifetime. It was only after her death that her heroic and pioneering accomplishments came into the light—a similarity she shares with many remarkable women throughout history.
March is Women's History Month, a time to celebrate and reflect on the accomplishments of women throughout history, like Virginia Hall, who've cleared the path for women today. Modern women are writing their own stories, sometimes even before the world truly recognizes their talents and contributions. These female authors and leaders are making a difference through their words while they continue to break new ground for gender equality and justice.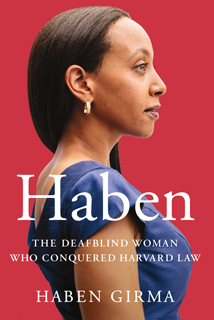 Haben Girma, the first deafblind person to graduate from Harvard Law School and designated a White House Champion of Change by President Obama, is one of those women harnessing the power of words for her cause.
"Stories influence the organizations we design, the products we build, the futures we imagine for ourselves," she told an audience in the UK. Growing up as the disabled daughter of black immigrants, Haben says she heard stories that made her feel like her life did not matter. "I had to learn to resist those stories," she says.
With the help of her guide dog Mylo and an assistant who helps translate the spoken word into braille, Haben is able to do everything she wants to do, and to share those experiences with the world. Lacking empowering literary role models growing up, Haben had few places to turn to for examples of what her life could become. Now, she is filling that void herself, sharing her own stories shaped by the improbable made possible: a deafblind woman who surfs, salsa dances, climbs glaciers, and travels the world to promote accessibility. Her memoir Haben: The Deafblind Woman Who Conquered Harvard Law documents her remarkable journey, sharing her story and shaping the future of what is considered possible by doing so.
Bestselling author and poet Nikki Grimes also believes stories are at the core of shaping who we become as a society.
"The world spins on story. Who gets to tell that story, and who that story centers, can't help but impact the way the world runs," she says. Nikki, who's received many national honors for her outstanding contributions to children's and young adult literature, is heartened by the diversity of voices she sees engaging with the written word. "As the American literary canon becomes more diversified, increasingly bringing in voices from the margins, the American story itself begins to change, better reflecting the nation as it is," she says. "Each story contributed matters because the future is always built upon the stories of the past."
Nikki focuses her own storytelling on communities that have often been overlooked. Many of her children's books feature the largely African American community in the Bronx where she grew up. Recently, she has published works about women poets of the Harlem Renaissance and the New York Times bestselling picture book biography of Kamala Harris, the first female, first Black, first Asian American to occupy the office of the US vice president.
Nikki says her work writing about Kamala has been especially meaningful for her. "The accomplishments of women so often take a back seat to those of men, historically speaking," Nikki says. "I always relish the opportunity to shed light on women of substance, particularly Black women, like our new vice president."
Whether in her children's books honoring and giving primacy to marginalized communities or in her biography of one of the most influential women of our time, Nikki is aware that each story helps lay a new foundation for future generations, a foundation she hopes will be more inclusive and equal than her own.
Despite her busy schedule as district attorney and later attorney general, then senator, and now vice president, Kamala Harris has herself sought to shape the nation through her words. In her memoir The Truths We Hold and in her children's book Superheroes Are Everywhere, both published in 2019, Kamala sets out to define her own story and values through storytelling. Frequently referencing her mother telling her, "You may be the first. Don't be the last," Kamala is clear about her fight to help the next generation of young women shake off the real or perceived limitations to their potential, and words are a key weapon in her arsenal.
Perhaps no one has garnered as much attention for her words lately than poet Amanda Gorman. The youngest inaugural poet in US history, Amanda captured the essence of the current American moment with breathtaking potency in her inaugural poem The Hill We Climb. Writing, "We the successors of a country and a time/where a skinny Black girl/descended from slaves and raised by a single mother/
can dream of becoming president/only to find herself reciting for one," Amanda is shifting the narrative of her own story and that of so many others raised with the obstacles of history, structural racism, and economic injustice from one of disempowerment to one of hope. At only 22 years old, Amanda, through the profound eloquence of her words as well as her advocacy for the advancement of youth voices beyond her own, has already had a tremendous impact on the stories we tell about ourselves as a nation.
Each of these women authors, and so many others like them, are using the power of their words and stories to inspire action, create community, and increase opportunities for individuals to live their lives freely and fully. Women's History—or better said, Herstory—Month is a time to give influential women of the past their rightful due. It is equally important to shine a light on the brilliant minds and passionate souls of the women who are making history each and every day, both in their words and deeds.
As Nikki says, "Story lays the foundation for everything." With these women leaders, activists, and writers paving the way, that foundation is one that will doubtless continue to expand in its inclusion, compassion, and strength.
Erika Robuck
Web: ErikaRobuck.com
Facebook: @ErikaRobuck
Twitter: @ErikaRobuck
Instagram: @ERobuckAuthor
Haben Girma
Web: HabenGirma.com
Facebook: @HabenGirma
Twitter: @HabenGirma
Instagram: @HabenGirma
Nikki Grimes
Web: NikkiGrimes.com
Twitter: @NikkiGrimes9
Kamala Harris
Web: Whitehouse.gov/administration/vice-president-harris
Facebook: @KamalaHarris
Twitter: @KamalaHarris
Instagram: @KamalaHarris
Amanda Gorman
Web: TheAmandaGorman.com
Facebook: @TheAmandaGorman
Twitter: @TheAmandaGorman
Instagram: @AmandaSCGorman
Jessica Redmond is the author of A Year of Absence: Six Women's Stories of Courage, Hope, and Love. She is a freelance writer and the founder and owner of Storyteller LLC, a memoir and ghostwriting service focusing on helping others tell their most meaningful stories.
This article was first published March 2021.