Blue skies wink from above the high and narrow walls of the ancient city of Fez, Morocco. In the Medina, the streets and alleyways extend like arms, offering a warm and tangled embrace. Normally filled with brightly colored rugs, vibrant pottery, baskets, and the lingering aromas of spices, mint tea, and sizzling kebabs, the cobblestone streets are quieter now, subdued by pandemic restrictions. The city walls still whisper tales from the lives they have encompassed and the community they hold today.
Nestled in a plaza at the end of a street is the Medina Children's Library, where new stories are still coming to life.
Since the library was founded in 2015, staff members have been finding ways to share books and a love of reading with local children. The pandemic presents new challenges, but has not stopped their efforts.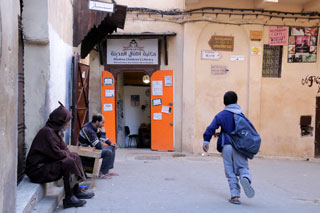 When Kim Fritschi first visited Morocco in 2013, she marveled at the magic of Fez, a city established in the ninth century and now a UNESCO World Heritage site. She and her husband, Barry Glick, stayed at Riad Laaroussa, a restored seventeenth-century palace, now a hotel owned by Kentucky native Cathy Bellafronto and her husband Fred Sola. Kim and her husband were so charmed by their trip that they decided to leave their home in Portland, Oregon, and move to Fez, with help from Cathy and Fred.
As a new resident of the old city, Kim delighted in morning walks through the cobbled streets with Cathy, often joined by author Suzanna Clarke (A House in Fez: Building a Life in the Ancient Heart of Morocco), who came to Fez from Australia. On one of their walks, Kim recalls Cathy expressing a desire to start a library for children, because libraries had been a cornerstone of her childhood, and there were no libraries in the medina. Kim and Suzanna were inspired by Cathy's vision and helped develop a plan for the library based on the needs of the community it would serve. Many residents of the medina are living in poverty or earning below-average wages. Their homes hold few books, if any. Local schools do not have their own libraries, nor were there any public libraries for children in the area.
"The idea was just to introduce books and a love of reading to these children," says Kim.
The women created a sponsoring organization, the Fez Association for Children of the Medina, funded by private donations. Board members include teachers, artisans, professionals, and other residents in the area served by the library. The association aims to support activities that improve the lives of children, starting with reading. They opened the Medina Children's Library in January 2015 in a small space, just over 182 square feet.
In modern Arabic, the word maktaba is used for both library and bookstore, Kim explains, so initially library organizers had to explain they were making books available for free, not for sale. They also wanted parents to know the library was a safe place, where mothers could bring their children and drop them off while they did their shopping. In the beginning, children were introduced to the library through family and friends, as well as school visits.
Librarian Samia Bachraoui invited multiple school groups each week to come and see the new library. Samia read aloud for the students and allowed the children time to browse the collection of books at the library. She also set up a system to loan books to teachers for their classrooms.
As news about the library spread, its popularity was undeniable. In 2017, the staff tracked an average of more than 1,200 monthly visitors in the tiny library. The small, cozy room is lined with comfortable pillows and rugs and is stocked with a growing collection of books—the stars of the space.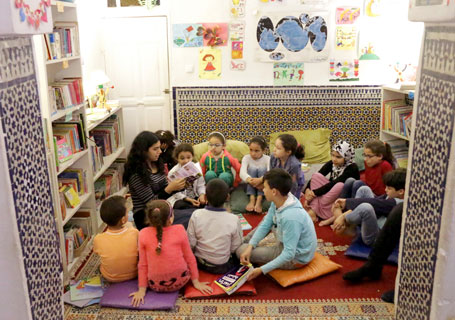 In the pandemic conditions of 2020, the library staff has become creative in their scheduling and programming, says Kim. In March, Morocco went on a country-wide lockdown to reduce the spread of COVID-19. The library has not been able to allow groups of readers inside but allows books to be checked out. In addition, the library staff has found other ways to support their young patrons and families. Samia is engaging with children online through Facebook five or six times a week, reading books, offering connection and inspiration. In addition, she is recording two or three storytelling videos each week, also available on Facebook, and the staff is building content for a YouTube channel.
"Easily eighty-five percent of our kids preferred to come to the library to read, as opposed to taking books home," before the pandemic, says Kim. "Until it's safe for us to gather together closely again, we'll be encouraging the community to take advantage of the library's resources … and we're continuing to brainstorm about how best to reach and serve the children and their families in our community. We're actually pretty excited about these new opportunities to expand our mission."
The Medina Children's Library operates on private donations, and Kim says these would make a real difference during the pandemic.
"With more books being checked out and leaving the shelves," she says, "we'll need to increase our inventory, not only to meet the demands of our members, but also to replace the books that will be damaged or lost."
The cost of shipping books to Fez is generally more expensive than the books themselves. The library staff has found the best source of books is the International Book and Print Fair in Casablanca. Each year, staff members take the train from Fez to Casablanca, bringing back a precious cargo of books in huge rolling suitcases. The book fair is an essential source of books in Arabic, and the staff is hopeful the next event in February 2021 will go on as planned.
The children's library collection currently includes almost three thousand books, with most in Arabic, some in French, and a smaller portion in English. The majority of the library's books are in Arabic because that is the language local children learn to read, write, and speak in school.
Kim says the purpose of the Fez Association for Children of the Medina and the library is to improve the lives of local children through reading and other cultural engagement.
"We don't do things that are specifically religious, but we are a Moroccan library in a Moroccan country, and we want them to be involved with what they are already exposed to." In the past, this has included activities from observing Ramadan to face-painting at Halloween.
Samia describes the ways books have made a difference for the children who come to the library.
"During my four years working in the library I have noticed the extent of how the kids' love of reading has been advanced," she says. "I see it also in their (Arabic) speaking and reading skills. They are not shy anymore to tell their point of view or ask questions."
And their point of view includes how much they enjoy their library.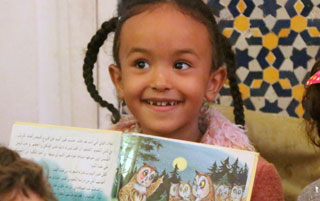 "This library made me love reading," says Sabrina, who is eleven.
Seven-year-old Kawtar calls it his "favorite place ever" because, "There are a lot of books that I like and a lot of fun activities, like story telling."
Kim, Cathy and Suzanne are happy to see the library become part of the lives of the community and its children.
"I see it in … children, who were coming when we first opened, and now they're adolescents," says Kim. "They've grown up with the library. And that's been an amazing thing to see."
She recalls that a little boy named Ottoman, who came into the library one day when he was about four and began to read to himself while the staff was having a meeting.
"Flash forward," says Kim, "and one day, sitting right by the steps that you take to go into the library space, (Ottoman) was leaning against a wall with his little brother, who was just a toddler, reading him a book."
In the future, the library association hopes to pursue a larger space, increase awareness for its programs, and create even stronger community ties. Kim says the work of the library will remain at the heart of all they do.
"We'll never lose our focus on love of books and reading," she says. "That will always be our root. It's not peripheral, it's central. It's something that everyone can embrace."
Tucked away in the old city, the little library holds the hope of new stories to come.
Medina Children's Library
Donations: MedinaChildrensLibrary.org/donate
Web: MedinaChildrensLibrary.org
Facebook: /MedinaChildrensLibrary
Instagram: @MedinaLibraryFez
All photos courtesy Medina Children's Library.
Feature photo: Pre-pandemic, librarian Samia Bachraoui read aloud to local students inside the small Medina Children's Library. Now Samia engages with children online five or six times a week for story time.
Lindsay Swoboda is a writer and the host of The Choosing Brave Podcast. Her work has been featured in Legacy Magazine, Military Spouse magazine, and Coffee + Crumbs. She is the former editor in chief of the newsletter for the U.S. Embassy in Quito, Ecuador. She welcomes connection on Instagram @upliftinganchor.
The article was first published July 1, 2020.