Reading a book can be a solitary activity, yet readers often find connection through the books they read—connection to characters, to stories, to more books, and to other readers. Another way to connect is through the proliferation of podcasts about books and reading. Some podcasts are focused on particular genres or topics. Others cover a wide variety of literature, encouraging readers to go beyond their reading comfort zone. For almost any reading preference, there is a podcast to fit.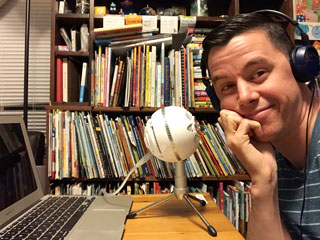 Matthew Winner is the host of the The Children's Book Podcast. True to its name, the podcast is all about books for young readers. It features interviews with authors, illustrators, and "anyone involved in taking a book from drawing board to bookshelf," says Matthew.
An elementary school librarian and author, he says it's gratifying to see The Children's Book Podcast linking readers to book creators and vice-versa.
"It feels great to know that so many are connecting with these bookmakers and with these books," says Matthew. "Most positive feedback (from listeners) is in response to my guests and the brilliant things they say in interviews."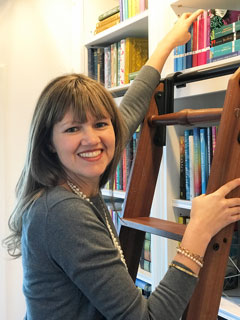 Connecting readers to one another is important to author Anne Bogel who blogs at Modern Mrs. Darcy. Anne also hosts a podcast called What Should I Read Next? She explains that the podcast grew out of a blog series she wrote called "Literary Matchmaking." Most episodes are interviews with individuals, who talk about three books they love, one book they hate, and what they are reading now.
"I hope readers come away from my podcast excited about the reading life, equipped with titles they'd enjoy reading next, and feeling connected to the larger community of readers," says Anne.
For book enthusiasts Curtis and Chelsey, a husband and wife team who cohost the podcast He Read She Read, connection to one another is primary. Curtis serves in the army, and the couple started their podcast as a way to reconnect after he returned from a nine-month deployment in Afghanistan. Although they occasionally have guests, most He Read She Read episodes are conversations between Curtis and Chelsey.
"We've always loved books and discussing what we're reading together. Now we just record those conversations," says Curtis. "The best part of creating He Read She Read is having the intentional time set aside to have quality, distraction-free conversation with each other. We both feel closer and more refreshed after recording, especially our buddy read episodes."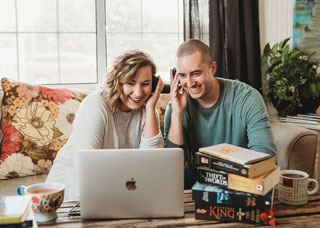 Curtis and Chelsey draw from their differing individual reading interests to discuss a wide variety of books on the podcast. They aim to create an atmosphere of hanging out with friends, discussing books and how reading influences relationships, growth, and daily life.
"For us, reading and learning are synonymous," says Chelsey. "We hope that listeners feel the joy of nerdy companionship when they listen to our show."
All these podcasters are also avid podcast listeners.
Matthew's favorite podcast about children's literature is Lifelines: Books that Bridge the Divide. The podcast, hosted by Ann Braden and Saadia Faruqi, brings attention to marginalized voices and topics. Each episode includes a list of new titles, from picture books to middle grade, and an interview with a librarian, author, or literature expert.
"Lifelines is focused on bridging the culture divide in children's literature that for years has gone unaddressed," says Matthew. "The focus is on diversity, reading widely, expanding our views of the world through literature, and building compassion and understanding through story. The hosts take such care at communicating respect and understanding toward every book and every issue."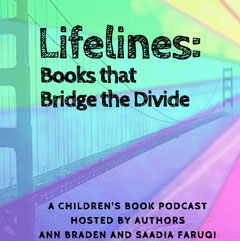 Anne listens to On Being with Krista Tippett, because of "her thoughtful exploration of meaningful questions," Just the Right Book with Roxanne Coady, for in-depth interviews with contemporary authors, and Off Camera with Sam Jones. Anne says the last one is a favorite, "because I love hearing about the creative process for artists in fields besides my own."
Chelsey, at He Read She Read, also loves book podcasts, but currently, she's listening to The Next Right Thing with Emily P. Freeman and Ten Things to Tell You with Laura Tremaine. "I get lost in my own head a lot, and these podcasts help me to focus and reflect," she says.
Curtis's favorite podcast of all time is The Thrilling Adventure Hour, which is a scripted show in the form of an old-time radio special. He also listens to NFL podcasts and Dan Carlin's Hardcore History.
For this month's Readers Write, we asked our readers: What is your favorite podcast about books and literature, and why does it top your list? A few of the responses:
Wesley says he discovered Between The Covers podcast with David Naimon while looking for information about an author who interested him. He enjoyed the podcast and liked that it was independently run and partially crowd-funded. He also listens to The Guardian Books podcast.
Linny listens to The Bible Recap Podcast from D-Group, and enjoys several other podcasts hosted by authors, including The Happy Hour with Jamie Ivey; Ordinary People, Ordinary Things hosted by Melissa Radke; The Enneagram Journey with Suzanne Stabile; and That Sounds Fun with Annie F Downs.

Julie is a book and podcast devotee with a long list of favorites, including He Read She Read with Curtis and Chelsey. Julie also listens to From the Front Porch, hosted by independent bookstore owner Annie Jones and staffer Chris Jensen; The LitFlix Podcast, all about books made into movies and TV shows; Currently Reading, hosted by Meredith Monday Schwartz and Kaytee Cobb; and Reading Glasses, where hosts Brea Grant and Mallory O'Meara discuss tips and tricks for reading better. Another favorite of Julie's is the SSR Podcast. Host Alli Hoff Kosik leads candid conversations about the books she loved in middle and high school, from an adult perspective.
Amanda enjoys podcasts about science in relation to daily life and current events. Her favorites are Star Talk Radio, hosted by astrophysicist and author Neil deGrasse Tyson, and Making Sense with Sam Harris, a neuroscientist, philosopher, and author.
Nancy also enjoys science and listens to Hidden Brain podcast from National Public Radio. Hosted by Shankar Vedantam, Hidden Brain links research from psychology and neurobiology with findings from economics, anthropology, and sociology, among other fields.
Enthusiastic readers are seldom content with simply reading books. They also like to smell them, think about them, talk about them, and learn more about the people who write them. Book lovers seek out articles about authors, and books about books. Literary-minded podcasts are another way for bibliophiles to explore their favorite books and authors, learn about new ones, and connect with other book lovers.
Do you listen to a favorite podcast we didn't list here? Share in the comments below.
Matthew Winner
Web: MatthewCWinner.com
Facebook: /Matthew.Winner.35
Twitter: @MatthewWinner
Instagram: @MatthewCWinner
The Children's Book Podcast with Matthew Winner
Facebook: /TheChildrensBookPodcast
Twitter: @ChildrensBkPod
Matthew's list of children's literature podcasts.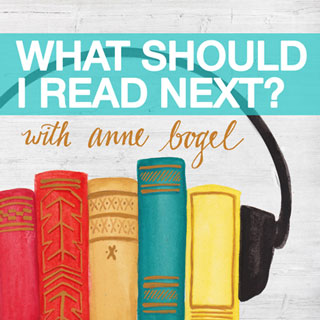 Anne Bogel, Modern Mrs. Darcy
Web: ModernMrsDarcy.com
Facebook: /ModernMrsDarcy
Twitter: @AnneBogel
Instagram: @AnneBogel
He Read She Read
Web: HeReadSheRead.org
Facebook: /HeReadSheRead
Instagram: @HeReadSheRead
Photo credits:
Matthew Winner, courtesy Matthew Winner
Anne Bogel, courtesy Anne Bogel
He Read, She Read courtesy Thirty7 Photography
Feature photo: Author and podcaster Anne Bogel, courtesy Anne Bogel
Podcast images by respective podcasts.
Terri Barnes is a regular contributor to Books Make a Difference magazine, author of the book Spouse Calls: Messages From a Military Life, and senior editor at Elva Resa Publishing. Her podcast list includes By the Book. The hosts, Jolenta Goldberg and Kristen Meinzer, read a self-help book, live by it for two weeks, then discuss what was helpful and what wasn't. "The books aren't always helpful, but the hosts are always entertaining," says Terri.
This article first published March 2019.