The unshaven man lumbers into the shelter at a Denver bus stop. Right before he sits down, he catches a glimpse of something settled on the other end of the bench. He shuffles over to the bundled books and reads the writing on the attached card:
"Did you find these? They're for you! It's a sign from the Universe that things are looking up."
He sits down with the bundle, and a smile creeps onto his face. He slides out the top book to leaf through its pages. He has picked up a pile of free books, but he has picked up more than that…he is holding in his hands a little bit of hope.
Alyse Urice, founder and director of the nonprofit organization Literacy & Hope has been street-distributing books for three years. More than 20,000 books have found their way into the hands of people who might otherwise be without them.
"Every book has the power to shape some part of you," Alyse says. "Books have inspired me to be more confident. They have shown me how to laugh when I'm in deep water. They have challenged and frequently changed my beliefs and thoughts, and they have inspired me to be a better person."
Intent on the idea of Literacy & Hope since 2007, it took a diagnosis of endometrial cancer to motivate Alyse to get moving on her idea.
"I frequently refer to it (cancer) as one of the better gifts I've ever had," Alyse says. "I was about half recovered and going stir crazy. One afternoon, I started bundling books from our wall of bookshelves into sets of two to three books. I penned notes to go with them."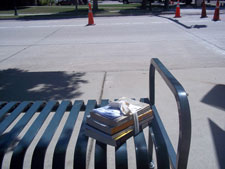 She and her paramour, Three Feathers, dropped books at nearly a dozen bus stops that first day and, as they made their way back home, they noted all the books they had distributed were gone. She looked at him and said, "We need more books."
Her vision and program started with the distribution of preloved books to area bus stops, but with the help of Three and her grown children Kat and Caleb, Literacy & Hope has reached out in a number of different directions.
The group has contributed to the libraries in the schools on the Pine Ridge reservation in South Dakota. After donations are made this summer to the high school there, only four schools will be in need of library materials.
Alyse initiated and has since moderated the Homecoming Queens Book Club for women who find themselves fighting their way out of homelessness.
"The Homecoming Queens celebrated one year recently," Alyse says, "and are moving forward with an 'each one bring one idea' to grow the group. They are journaling and may actually have their stories published."
Literacy & Hope has also put books in classrooms along the Front Range in Colorado by working with Teach for America teachers. Alyse's daughter is heading up a project for a book group at Lookout Mountain Youth Detention Center. Other initiatives include a current events group and possibly a book group at a local retirement village.
She acknowledges, "I'm a lot like that swan gliding across the lake: calm on the water and paddling madly underneath the surface."
The work has endless potential, and Alyse feels compelled to keep moving in these directions because she understands the profound difference books can make in people's lives.
"I have always depended on books to take me away," Alyse shares. "In an apartment over a bar, Little Golden Books provided me with pleasant dreams and children drawn in soft light and pastels. When the drafty duplex we lived in was condemned, I packed up my ancient Honey Bunch books and early Nancy Drews. In the tiny house in the alley, I crept away to The Island of the Blue Dolphins and journeyed with Harriet Tubman on the underground railroad. Nancy didn't mind that I was chubby. Karana understood about feeling lonely. Harriet understood the need to escape."
Alyse has seen people with books and she has seen people without books. She has noticed the people who have books are always better off, and it is a big reason she is compelled to save the books destined for the trash to get them into the hands of people who most appreciate having a good book to read.
"There are hundreds of thousands of books that end up in landfills every year: novels, biographies, text and reference books, kid's and adult books. The only thing I have to say about that is 'NO!' If you have to choose between food and a bar of soap, it's likely buying a book is pretty far down the list. We put those preloved books into the hands of people, schools, and programs who gobble them up. No rocket science needed, just common sense."
The growth of Literacy & Hope is impressive. Working with a $0 budget, the committed work of a small group of volunteers has secured book donations from authors. The Jefferson County Library has also been a large donor of preloved books. As soon as Alyse can secure the storage space, there is a local book reseller who is in negotiations to donate pallets of books. Alyse is also excited about the support Literacy & Hope has received from musician Michael Franti, who has encouraged them to set up a booth at his summer concert at Red Rocks.
"We're a tiny organization with no money, run from my home and garage. With some second-hand yarn, out-of-the-box thinking, and the willingness to shamelessly ask authors and others for help, we've come this far. I often wonder how many hands those bundles of books travel through when we leave them at bus stops and in laundromats. I think about a student at Pine Ridge having The Outsiders in his hand and where it will take him. If we change one life or 100,000 lives, it's worth it. I will never know all of the stories; I just know that it's my job to pass along the books."
With a pay-it-forward approach, Literacy & Hope has inspired others to join in the effort. The women in the Homecoming Queens book club have helped to create community libraries for the people in the low-income housing areas where they all live. Others intent on making a difference are asking how they can help, too.
Alyse receives calls from around the country inquiring about what they can do with rooms full of books to donate. She tells them she does not want them to ship the books to her, but rather she encourages them to make use of the books locally. "Keep it local, keep it at home, and ask, 'What could I be doing?'"
Alyse believes, "No one should ever have to trade their dignity for a book." The work she does with Literacy & Hope provides a means to that end.
"I used to ask myself what one person with no money and no real backers could do. And the answer came to me. It's what anyone who really wants to change their world or the world of others can do: What you can. Where you are. Every day."
Literacy & Hope does take monetary donations as well as donated books available through authors and publishers. You can find out more information and make a donation at www.LiteracyandHope.com.
Web: www.LiteracyandHope.com
Facebook: /LiteracyHope
Twitter: @LiteracyHope
Photos by Meagan Frank.