In June, Books Make a Difference asked readers to vote for Best of What Dads Are Reading. Readers chose Like a Dad to top the list.
A writer, photographer, and father of two boys, Michael Cusden is the voice behind the blog Like a Dad. Michael's blog was included in a list of great nominees for this year's contest. His first place distinction was followed closely in votes by second place James Hudyma's Dads Round Table, a blog for which Michael is a contributor. The third place honor goes to Mike Julianelle's Dad and Buried.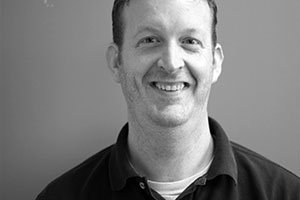 "It is a cool achievement that I will certainly share with my family, friends, and readers, and I hope it helps make it clear that dads have a lot to say as well," Michael says.
Dads certainly have a lot to say, and because more and more men are contributing to the parental conversation, the online parenting voice is getting deeper. Dad writers are contributing by blog, in books, and on Twitter and Facebook. As part of our Readers Write exclusive content for June, we let our readers decide which writers are among the strongest and wisest voices speaking for and about dads. You can see the complete list of nominated blogs and books at the end of this article.
So How Is Blogging Done "Like a Dad"?
A blogger for more than a decade, Michael, who lives in the city of Halifax in Nova Scotia, Canada, started his dad blog in November 2012. He knew he would be taking his parental leave in April of 2013, and he wanted the blog up and running before he was home for six months with their second child. Michael and his wife, Katie, are splitting the Canadian yearlong parental leave. She returned to work when the baby turned six months old, Michael then stepped in to be the stay-at-home dad for the next six months.
"The idea (for a blog) was in my head for a long time, and I really wanted to start it when we had our first child in 2009," Michael says. "But I did not fully realize just how strapped for time I was going to be with my full time job and other freelance work I was doing at the time."
A writer by nature, Michael processes his moments as a father through writing and photography. Blogging has provided an outlet for his creativity and a resource for him socially.
"It (blogging) helps me feel relaxed and creatively engaged. I need to write or take photos to help capture moments and experiences I have with my boys," he says. "Then as I got to know the dad blogging community, my writing started to expand on bigger issues, like why dads don't take parental leave more even though it is there to take. I have met a lot of other dads who blog and write, and it has been a great experience to date."
How Have Books Made a Difference?
Reading and books are a part of Michael's fabric.
"My mother was a librarian so I always had a healthy pile of books on the go," he shares. "I was a very quiet and introverted kid so books were one of my favorite things to have around. There was no pressure or stress to participate."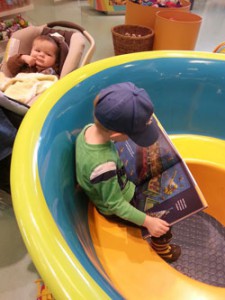 Like other parent bloggers, Michael struggles with time to read. He finds blogging and child-rearing keep him busy enough.
"Finding time to read is a real struggle for me," Michael says. "I used to read three to four books a month. Now, I am lucky to finish one at all. I have been reading a lot of books that have to do with parenting. Usually the lighter side, as I don't really like to read about how the experts say you should parent. The book I am reading right now is Dad is Fat by Jim Gaffigan. A must for any dad, in my opinion."
Michael encourages his boys to read and love books, too.
"It is important for a dad to read to his kids (boys especially). They will know dad loves to read, so they will follow."
During his parental leave, Michael has been reading, writing, photographing, and blogging about the challenges and joys of parenthood. His voice is among the growing male voices in the parent blogging world, and he has found a niche that suits his writing and his fathering needs. He is humbled to be a part of the list of blogs/books nominated for this year's "The Best of What Dads are Reading," and he has plans to continue with his contributions.
Michael will go back to work in October. He says, "I will plan to continue with the blog because there is so much more to being a dad than the leave."
The full list of nominations for The Best of What Dads are Reading 2013:
Dadmissions
Pete Wilgoren's book and Facebook page
Like a Dad
Michael Cusden's blog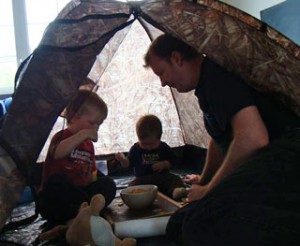 Dad and Buried
Mike Julianelle's blog
Daddy's in Charge
John Willey's blog
Daddy Knows Less blog
Dads Round Table
James Hudyma's blog
Founding a Father
Jimmy Ettele's blog
Proactive Dad
Facebook page
Bobblehead Dad
Jim Higley's blog and book
NYC Dad's Group blog
Stay at Home Brad
Bradley Gordon's blog
Dad's Book of Awesome Projects: From Stilts and Super-Hero Capes to Tinker Boxes and Seesaws, 25+ Fun Do-It-Yourself Projects for Families
Book by Mike Adamick (nominated 3 times)
Dad Bloggers
Facebook page and Twitter
Writing Pad Dad
Justin Knight's blog
Daddy Doctrines
Chris Routly's blog
Men Can: The Changing Image and Reality of Fatherhood in America
Book by Don Unger
Happiest Daddy blog
Minimalist Parenting: Enjoy Modern Family Life More by Doing Less
Book by Christine Koh and Asha Dornfest
Beta Dad Blog
Andy Hinds' blog
I Simply Am
Josh Becker's blog
Black Dads Rock
Facebook page
Busy Dad Blog
Jim Lin's blog
The Daddy Shift: How Stay-at-Home Dads, Breadwinning Moms, and Shared Parenting are Transforming the American Family
Book by Jeremy Adam Smith
The Daily Love
Mastin Kip's blog
Other reads brought to our attention as a result of this contest:
Blogs
Books
Hello My Little One, It's Me Your Father by Elvin R. Freytes
Dad is Fat by Jim Gaffigan
Wisdom from Daddies by Ricky Shetty
Photos courtesy of Michael Cusden.
Featured photo: Michael's son peruses the choices of books for dads.
Inset: Michael encourages his boys to read. In addition to his blog entries, Michael posts photos on Instagram and Facebook, highlighting parenting moments such as lunch and indoor camping with his sons. See more photos and updates on Like A Dad's Facebook page or on the Like a Dad web site.