Terminal.
Zach Sobiech battled osteosarcoma, an aggressive bone cancer, after receiving the diagnosis at age fourteen. Just before the start of his senior year at Stillwater Area High School in Minnesota, he and his family learned their fight would soon end. Zach was given months to live, and his mom, Laura Sobiech, began to see their journey and the story unfolding around her through different eyes. For the years of their battle, she had pored over medical jargon and written the obligatory web updates to keep family and friends in the loop. She had read several stories of families who had crossed over the bridge to "terminal" before her, and when she read what they wrote she says, "I remember thinking, I could never do that." But she was wrong.
She became inspired to share the way her son and her family were choosing to live on the other side of a terminal diagnosis. She says, "I wanted people on that side of things to know they can do it. When God's grace is present, it means something."
Laura originally wrote to provide health updates on CaringBridge, a website dedicated to families hoping to keep others informed about the progress of sick, injured, or dying loved ones. Over time, her posts became beautifully-penned philosophical, spiritual, and heart-wrenching reflections about the real, the raw, and the beautiful parts of living with a dying child. She posted regularly during Zach's last year and she continues to update their CaringBridge site.
What she couldn't have known while she wrote about the story unfolding was that her particular dying child would live a story in his final days that would inspire millions of people to step into those scary places with courage and grace. Zach wrote and recorded a song called "Clouds" that went viral on the Internet and on radio stations around the country. Zach was also part of a documentary series on the YouTube channel Soul Pancake called My Last Days that to date has well over twelve million hits. The positive response from people was overwhelming and inspiring.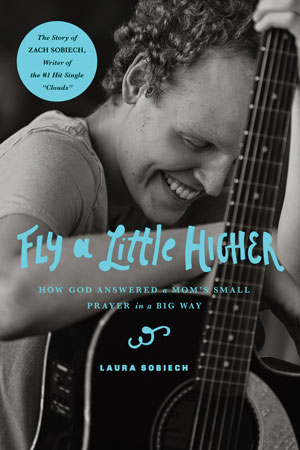 Living Zach's story with him was also the inspiration a reluctant writer like Laura Sobiech needed to step confidently into her decision to write a book about Zach's life. Fly a Little Higher: How God Answered a Mom's Small Prayer in a Big Way is Laura's reflection about the life journey she never imagined she'd be asked to live. Zach died May 20, 2013, just after his eighteenth birthday, and over the next year Laura wrote the story of their journey with cancer and what she learned from Zach about living while dying. The book released in early May 2014, and Zach's story continues to move people with positive momentum.
Laura says, "I want to share our story. I want to show people this is how we did it and invite them in that way."
A faithful Catholic, Laura has regularly contemplated life from a place of spirituality. One of the books that changed her life is a pocketbook she read about fifteen years ago, Trustful Surrender to Divine Providence: The Secret of Peace and Happiness by Father Jean Baptiste Saint-Jure. It profoundly changed her perspective on suffering and how God uses it in our lives. She learned it is not necessary to avoid suffering because, as she says, "God uses suffering as a mercy. He uses suffering to teach us a higher truth."
Despite the presence of suffering, Laura approached her family's challenge with an eye to learn God's lessons as they were revealed.
Trying to understand the ins and outs of cancer is a horrible process, Laura says. "I am just a lay person without a full understanding of all the medical jargon." It's an exercise to figure out the language first, to get the lingo, and then to ask the right questions of the doctors. "I wanted to arm myself with information for Zach so I could prepare him for what he would be experiencing."
There is a big learning curve when it comes to cancer, but an even bigger learning curve exists for those families facing terminal illness. Laura needed to be a wife to her husband and a mother to all four of their children, not just her dying son. They were each facing their own challenges with Zach's imminent death, and their oldest daughter was also planning her wedding for the following spring. Laura found personal nourishment in her faith life and daily scriptural readings, but she especially found comfort when writing her reflections about what they were experiencing as a family.
Laura's first attempt at writing in reflection happened when she kept a journal while reading Trustful Surrender. Unless she took the time to sit still and write her thoughts, they simply washed away.
"In the middle of the chaos, CaringBridge became that place where I would take time to sit down to reflect and compose." She says, "It is such a gift to do that—to sit and let things sink in."
It mattered that there was an audience for her discoveries and reflections, and soon she realized, "It wasn't just for me—it was to be served to someone else."
All the reading and writing through her life was preparing her for a book she had no idea she'd be able to write.
About the time they found out they were going to lose Zach, Laura started to feel the pull to write the story as it unfolded. She was more thoughtful about the notes she kept and the entries she posted. She recorded her faith journey as well as Zach's life story for what she thought would be a small audience. At first she couldn't really wrap her head around the idea of writing an entire book because that was too daunting. Instead, she wrote snippets of experience that included her reflections about suffering, joy, and hope. Those writings became the springboard to her eventual book project.
A few weeks after Zach passed away, Laura was offered a contract to write the book, and with that offer came a flood of emotions. She sobbed in her husband Rob's arms, unsure about whether she could actually do it. She would have to be immersed in writing their first summer without Zach, and she needed to know she had the support of her husband and their youngest daughter, Grace, who was still living at home. Both encouraged her to do it and they all made room in their lives for the grueling twelve weeks.
"I was firing an engine that had never been fired up," she says. For twelve to fourteen hours a day, she devoted herself to telling the story, including the parts that had remained untold despite the viral videos about Zach's life.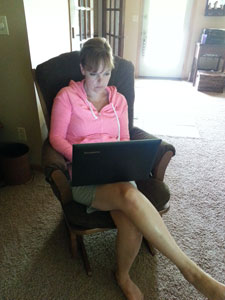 She wrote in one of three places in their home: in her favorite chair in the living room, out on the back patio, or at her bedroom desk.
Writing a book was an entirely new challenge for Laura, on top of the other parts of life she needed to navigate. She had no idea how to compose or format the book, and she received regular tutorials from her writer friends over the phone. She wrote a sentence about the contents of each chapter and as she approached the project each day, she allowed herself to write where she felt moved to write. The parts of Zach's story she found difficult to write were the fun, happy parts. She saved those stories for the end. So soon after Zach died, she was writing from a place of grief, so the sad parts were easier to compose. She sobbed through it as she wrote, following where her words led her.
"I wanted to do [the fun scenes] justice, but I wasn't there emotionally to be able to write about something fun," Laura says.
What helped her was the information she gathered from major players in Zach's life.
"I asked each of them to write their experiences. It was great. It renewed it in me and it was easier to write it seeing it through their eyes."
Zach wrote his now-famous song "Clouds" as a goodbye to family and friends. When asked if the book was Laura's way of saying goodbye to Zach, she says, "No, I don't think so. I'm not saying goodbye to Zach. I still feel like he is very present in our lives. He's present in a different way."
Laura wanted to be true and authentic to their story, telling it as it happened. She struggled with whether to include the difficult parts of the marital struggles she and her husband endured.
She says, "I thought, I either write about this or I don't tell the whole story." Laura believes "vulnerability is a huge step toward connection and communication" and she decided writing about all of it was the best decision.
Laura believes God wants them to share their story. She believes their entire story is meant to be shared with the world, but she doesn't want it to be preachy. All she wants is to offer to readers the truth about what they experienced.
Reaction to the Book
Laura is satisfied with the public's reaction to her book. She is hearing what she hoped to hear. She says, "People are taking something away from the story." Families with cancer in their lives are finding someone with whom they can connect. And those with no connection to cancer or Christian faith also find the book moving.
In fact, a Japanese publisher that had originally rejected the book as "too-Christian toned for a non-Christian country" later picked it up after a performance of "Clouds" by about 150 Japanese ninth graders convinced the publisher there may indeed be an audience.
"Zach is going to evangelize to Japan. None of this would have happened ten years ago," Laura says. With the onset of the Internet, and the viral potential of YouTube, a story like this is possible. Laura credits God's timing for all of it.
Zach wanted to be remembered as the kid who went down fighting and didn't really lose. That indomitable spirit continues to inspire those who hear Zach's story, and Laura says the book is another way God wants the story to be shared.
Laura had an intimate front seat at the stage of Zach's life as an influential musician and as a dying child who lived fully with all the time he was given. "His story is so much bigger than any of us," she says. "Writing the book is a way to share even more of Zach with the world."
Web: www.FlyALittleHigher.com
Facebook: /AFirmHandshake
Twitter: @LauraSobiech
Photos courtesy of Laura Sobiech.
Meagan Frank is an award-winning writer and inspiring speaker based in Wisconsin. She is the author of the Choosing to Grow series and is working on her first novel. www.MeaganFrank.com