Above a garage in coastal Maine, there is a magical place where gnomes go backpacking, buoys guide lobstermen, and bear buddies climb into igloos for the night. Each lovingly-crafted three-dimensional fabric character has a story to tell. Through her new book, Sewing Tales to Stitch and Love, Kerry Goulder hopes to inspire other storytelling crafters to spread this magic throughout the world.
At first glance, her book looks like any other craft book on the shelf at your favorite fabric or hobby store. There are patterns and instructions for making various fabric toys.
Anyone not into sewing crafts might not pick up this book. But there is something deeper going on here. In fact, some writers spend a lifetime trying to do what Kerry has done out of love. She has given each creation a name and a story. When you actually read Sewing Tales, you learn where each toy has lived, what stories they have to tell, and how they might fit into your world.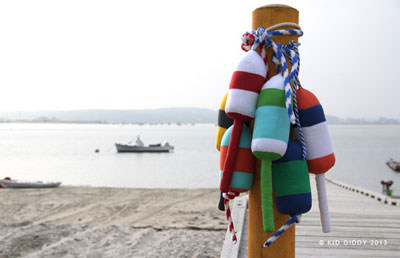 Bob the Buoy, for example, "spent many years off the coast of Greenport, floating and bobbing up and down with the tide. Early in the morning, the lobstermen always came looking for me. … I was attached to a big wooden trap and would help them catch lobsters to eat."
Retired buoys are a common sight in many coastal towns. The second chapter of the book, "Coastal Waters," is filled with seaside projects inspired by Kerry's life on the East Coast.
Kerry's real-life Uncle Bob loved to catch lobsters in the wooden traps at their family's summer home in Greenport, New York, when he was young. Kerry writes that this retired buoy "was pulled from the water one last time," a loving tribute to the fond memory of her uncle.
All the stories in Sewing Tales have some real personal story or a connection to a real person. "I injected a true story wherever I could because I wanted my girls to have that little bit of family history," Kerry says. "This book shows them the things I love to make, and tells them stories about themselves and their cousins, my family, and their dad's family."
Creating a legacy of lasting stories was always part of the plan. Kerry hopes her book will make a difference well beyond helping readers create fun toys from patterns. She says, "I hope people will take the time to make something for someone else. To breathe life into it and share it. It's about giving a part of yourself to someone else. That person then has that memory of you; they think, 'this person loves me enough to make something for me.'"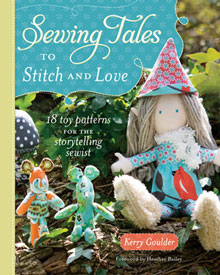 She adds, "I want stuff to last, to be handed down to others. Some of my most cherished things are items that were made for me. My mom made me a Cabbage Patch doll. My grandfather made me a cradle. My grandmother made me a card basket she covered with fabric. I love looking at these things and thinking, this is my family. These are the people who love me and what they made for me."
Kerry hopes people will carry that forward, creating a fabric toy and a story to go with it. "It's fun to watch a child come up with a name for this new stuffed animal or doll, and to talk about its favorite things. You hear them start to talk about this character that has become real to them. I love that."
Even though her craft book is not considered a children's book, Kerry hopes it will have an impact on kids. "The little stories are what help kids love it," she says. "I want to get more kids involved in sewing. It's a lost skill. To get kids involved and to enjoy it is part of the equation."
When asked what book(s) most influenced her as a child, Kerry answers quickly and enthusiastically: Little Golden Book's Little Mommy. "That's the one book I remember most. Because of that book, my sister and I always wanted to be mommies. That's what we wanted to be. We just wanted to be a mom because of that book."
The little mommy in the book creates a home for her doll children. Kerry has always been encouraged to play, pretend, and create. The daughter of an art teacher, the twin sister of an artist, the wife of a graphic designer, and the mom of two imaginative girls, Kerry is surrounded by and nurtures creativity and storytelling.
The space above the garage is a newly-renovated studio for her family. "We all wanted to be in the same space creating," she explains. Kerry, her husband, and her two daughters each has a space specifically tailored to the type of creative work they do. It's both inspiring and messy. "Whether it's mine or my daughters', there's always a mess," she says. "You just go. You stop thinking about time. You stop thinking about what you're pulling out next: tools, fabric, paper. No matter what we're making, there's always a mess. But the idea that we're allowing freedom of expression and creativity to just flow is inspiring. I love to watch my daughters create. I sit there in awe thinking, 'I didn't think like that when I was little, or did I?' I love watching them create because their imagination knows no boundaries. As adults, it's so easy to worry about if this is going to be new and fresh. My girls don't have those boundaries in their heads, they just keep going. So I try to do that, too. I try to look around our home, to be inspired by nature and everyday things around us."
It was, in fact, Kerry's daughter and everyday life that jumpstarted her on this journey nine years ago. When her infant daughter's blanket kept falling out of the car seat, Kerry turned her frustration into invention and crafted a blanket that would stay. The Tuck 'n' Go® was Kerry's first novel product, launching her company 2 is Beautiful LLC and her Kid Giddy creations.
Patent costs and manufacturing restrictions deterred Kerry from mass producing the Tuck 'n' Go®. She sold a few on Etsy.com, mostly to fund her growing hobby of buying more fabric.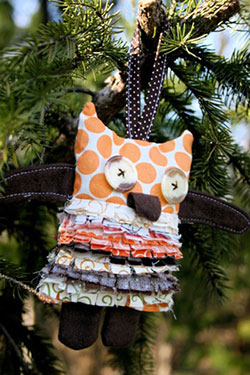 As Kerry played with ideas for making unique stuffed toys, her karate friend Phoebe suggested she send her ideas to (then) Crafts 'n Things magazine. The editor really liked her ideas and Kerry's owl pattern ended up on the front cover. Following the overwhelmingly positive response, the editor asked Kerry to write a series for upcoming issues.
Kerry began going to craft and hobby conventions. At one, she walked into Anna Griffin's booth and expressed her dream to create patterns for the artist's company. The opportunities began to fall in place.
At her first show as an exhibitor, Kerry set up a memorable designer showcase. "I wanted to tell people who I was, what I was all about, and what I could do," she says. "I created two gnomes, based on me and my twin sister, and pretended they were out camping. I made a little tent and trees and grey felt stones. For my press kit, I made tree branch pencils and stacked them up in a fire pit. I created this story to say 'This is my neck of the woods. I live in Maine. This is kind of what it looks like in my back yard.' The next year, I created part two of the story. I loved making stories, the characters, the atmosphere."
As a child, Kerry had always named her stuffed animals and dolls and made up stories for them. "It was a natural progression to give each character a name, a background story," she says. "I wanted to write a book to share some patterns I had never shared before. I had the idea for more than a year that I wanted stories to go with it."
Through her showcase and press kits at the shows, Kerry generated interest from publishers. An editor from KP Craft, an imprint of F&W Media, the world's largest craft and art media entity, called Kerry after a show and asked her to submit a proposal.
"[An editor calling me] was a big hurdle for me to overcome," Kerry says. "A lot of my hesitation was fear based— what if people don't like my ideas? What if I do it wrong —is there a right and wrong way? When it's your first [project, showcase, or book], you can't help but wonder all that."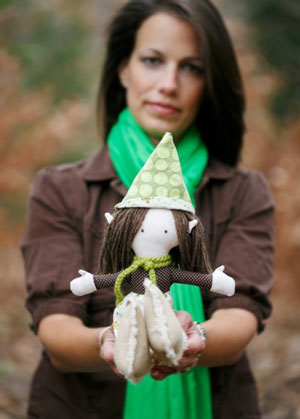 She needn't wonder any more. Kerry's patterns and stories are making their way across the continents, in hobby shops from the UK to Australia.
Meanwhile, Kerry and her family—real people and gnomes included—are creating new adventures in a cozy room above the garage. Somewhere amidst the fabric and notions is a list of things Kerry wants to do someday, including writing more books. Whatever comes next, Kerry says she will do it "out of love, with purpose and meaning. I don't want to waste the space in this world. I want to put something out there that is going to mean something later on."
Web: www.KidGiddy.com
Facebook: /KidGiddy
Twitter: @KidGiddy
Pinterest: /KidGiddy
Etsy: KidGiddy.Etsy.com
Instagram: /KidGiddy
Buy the book: Sewing Tales to Stitch and Love: 18 toy patterns for the storytelling sewist
Author photo by Nadra Edgerley.
All other photos copyright Kid Giddy and courtesy of Kerry Goulder.
Karen Pavlicin-Fragnito has stitched many special projects, including designing her own wedding dress and creating an heirloom friendship quilt, but her favorite part is sharing the stories that thread them together. She was once married to a buoy named Bob from Long Island. Connect with Karen on Twitter, Facebook, Web, or email.
This article was first published January 2014.