Perhaps no individuals in the history of the world have been more misunderstood than those experiencing poverty. The causes of poverty are as complex as they are diverse and simultaneously personal and systemic. A lot of books have been written about people in poverty, but not many written by people in poverty.
Julia Dinsmore, a Minnesota poet, singer, and educator, hopes to transform others' view of people experiencing poverty with her book My Name is Child of God . . . Not "Those People."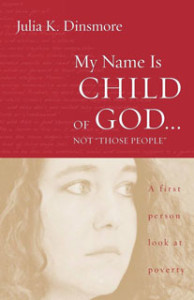 When Julia began speaking and teaching about socio-economic inequality, sharing her own story and empowering people to be part of the solution, she was still mired in the challenges poverty brings, and she is still working to overcome them today.
But her survivor spirit is strong and her hope, resilient. This may be why her story has impacted so many.
Her book tells her personal story of generational poverty, from childhood to raising her three boys as a single mother, to her middle-age years. She shares about living on welfare, making her monthly food shelf allotment stretch, and navigating the complicated social services and welfare systems. She writes about the overwhelming burden of credit card debt, medical bills, and fighting to keep her twin sons, both who suffer from mental illness, off the streets.
Julia's narrative is interspersed with poetry, song, and commentary about the realities of people in under-resourced communities. Her hope: "through the transformative power of story, people would stop hating on people experiencing poverty."
The stereotypes that people experiencing homelessness are lazy, or drug addicted, or criminals is entrenched in the American psyche, when in reality most homeless people are often hard working, honest people who are oppressed by systemic injustice. Those with a checkered past striving to turn their lives around are often denied basic rights like affordable housing. Julia asks questions like, "Why are persons with drug convictions not eligible to reside in subsidized housing?" and "Why are we not investing resources in permanent affordable housing?" She seeks meaningful dialogue with politicians, social workers, church leaders, and educators to come up with creative solutions.
Long before her story found a home on the written page, Julia took it on the road through her music, poetry, and oral storytelling.
She performed her poem "My Name is Not Those People" around the country, at universities, churches, and government and nonprofit events. Her words cut deep into people's misunderstandings of people who are called poor, and opened hearts to understand the people behind the label.
In Julia's iconic "say it like it is" style, one stanza of the poem reads:
My name is not "Lazy, Dependent Welfare Mother."
If the unwaged work of parenting,
homemaking, and community building were factored
into the gross domestic product,
My work would have untold value. And why is it that mothers whose
Husbands support them to stay home and raise children
Are glorified? And why don't they get called lazy or dependent?

(Listen to Danny Glover read a version of the poem.)
"I'm not a pity party with a microphone. My talks and my messages are about the resilience, brilliance, fortitude of my people," says Julia.
People have come up to Julia years later to express gratitude for what they learned from her, many even remembering direct quotes that made an impact. Seeing growth in others is one of Julia's greatest joys. When people spend time with her stories their lives are changed.
A woman who read My Name is Child of God later connected with Julia to say, "My kids thought there was something wrong with me. They've never seen me read a book all night before! You told my life story."
"The notions stay with folks. It sticks to their ribs, and continues to speak to them as they live their lives," Julia says.
Julia doesn't sugar-coat her experiences. In fact, her colorful language and blunt speaking style are what make her persona so compelling. She's able to navigate class divides in a way that is both shocking and inviting. She helps increase people's socio-emotional literacy around economic disparity. She says, "The lenses they see the world through add a few new hues. They can see in more colors."
Seeing the world through this new lens can shake people up, Julia says. It not only changes the way they see people in poverty, but it changes the way they view themselves.
When speaking to a group of college students in an urban immersion program, Julia shared her poem "My Name is Not Those People." One student in particular started crying, not an uncommon experience for people of privilege when encountering the reality of poverty.
"Because when classism gets instilled in people, it's actually a wound," says Julia. "When they get tools to dismantle it, it becomes a social, emotional, spiritual journey."
Later, this student, Lucy Hayes, contacted Julia to share a poem she wrote called "An Elegy to Silence." In the poem, Lucy describes her turbulent thoughts about coming to terms with her status as a white, middle class, person of privilege. The poem is a powerful example of how Julia has made a difference in people's lives. Read the poem on Lucy's blog.
The cause of income inequality in our world today? Julia calls it "affluenza"—a condition associated with greed and wealth.
"There's a tremendous imbalance in the flow of wealth and resources. It's a spiritual illness. Some of us think we're entitled to more than we can imagine, and some of us aren't even entitled to life," she says.
Julia believes that affluenza can be cured when we reclaim the fullness of our humanity and our connectedness to one another.
"Maybe we'll start less wars. Maybe children will die less often from starvation. More people will be housed and we'll be saved from this suicidal trajectory that affluenza has put us on. We need to take care of one another," Julia says.
Even though her poem has been studied in academia, used in sermons, and translated into several languages, it didn't result in any additional income.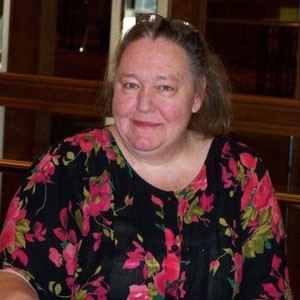 "I got this world famous poem . . . my book comes out, and I'm like, 'Yay, bootstraps!'" Julia says with enthusiasm.
But it didn't quite work out that way. She recalls her son asking her why they still lived on food stamps even though her poem was read worldwide. Why, indeed?
Her speaking gigs bring in a few dollars, but often she is asked to speak for little or free. Her poetry is used around the world without any royalties paid and her work is discussed without her book becoming required class reading. So now, Julia is fashioning some new bootstraps in the form of a GoFundMe campaign, to kickstart her micro-business to support her work as an educator and writer. She hopes the countless people who have given her verbal support and encouragement over the years will partner with her to help fund her work. With the money, Julia hopes to produce more wall hangings of her poetry and CDs of her songs to sell at events, revise her book to be more textbook friendly, and hire someone to help market her services, among other things.
Creating a more fair world will only be possible when the voices of people who experience socio-economic injustice are brought to the table. Julia is working to make that happen, one reader, one student, at a time.
"The world ain't going to transform without us. People experiencing poverty are really part of the solution to the world, but our gifts are often not visible, valued, or welcomed," says Julia.
This is why Julia Dinsmore writes, and sings, and speaks about her experiences. And she does so from a position of strength, hope, and a hearty sense of humor.
"We don't know what we don't know, until we know!" Julia says with a loud laugh.
Facebook: /Julia.Dinsmore
Twitter: @JuliaD444
Featured photo: Julia Dinsmore, center back, at a dinner party for "good people doing great work" held by Patrick Ness. Photo courtesy of Patrick Ness.
Naomi Krueger is a freelance writer and interim managing editor of Books Make a Difference. To contact Naomi or read her blog, visit www.NaomiKrueger.com.