When you walk into a bookstore, looking for the perfect children's book for that child in your life, do you ever feel at a loss for which book to choose? There are the classics of course, like Good Night Moon or Charlotte's Web, which are always good choices. But what about new books? How can you tell what books are worth buying and reading again and again?
John Schumacher, otherwise known as Mr. Schu by his students and Twitter followers, hunts for the best children's books so you don't have to. John, a K-5 librarian in Oak Brook, Illinois, reads an average of 2,000 children's books every year and posts his recommendations on his blog, Watch. Connect. Read. as well as on Twitter, @MrSchuReads.
"I love to read. I love children's books. Those are the books that speak to me the most," John says from his car, parked outside a children's bookstore.
Watch. Connect. Read. contains video book trailers of upcoming releases, John's book picks, interviews with authors, and more—all focused on children's books.
"The books I promote are those I feel are the best for children," says John. Though children aren't the primary readers of the blog, they benefit because their teachers, librarians, and parents are paying attention.
"I hope it leads people to what I call 'forever books'… the kind of book that will live with you forever, or stand the test of time. Kids will read them in the future and have similar experiences as readers do today," John says.
One of John's "forever books" is Charlotte's Web, a book he remembers his second grade teacher reading to him. Other books that make the cut for him as an adult are The One and Only Ivan, Flora & Ulysses, and The Tale of Despereaux.
John has always treasured books, going to great lengths to have them in his possession. In fifth grade, John did something that continues to impact him today—he stole a book. Specifically, he stole Matilda by Roald Dahl from his teacher's shelf.
"I needed my teacher's copy.  So I stole it. I came in from recess early, I stole the book and put it in my backpack," says John. "I don't know why I did that. My parents would have bought it for me. For some reason I wanted that copy."
"And maybe that's why I always give away books through my website," says John with a laugh . "To make up for it."
Since 2002, John has read children's books almost exclusively. He can count the number of books written for adults that he's read since then on one hand. In 2007, he joined Twitter and began promoting children's books and book trailers.
One December day in 2010, an Iowa Librarian named Kathy Kaldenberg, suggested he start a blog dedicated to book trailers. He'd been thinking about starting a blog, but this was the encouragement he needed to get the ball rolling.
"Every year on that date I send her a note thanking her."
One year later, he got his "big break," when author Katherine Applegate approached him about premiering the trailer for her book, The One and Only Ivan, a novel about a lonely gorilla in a zoo and an unlikely friendship with an elephant. It led to John becoming an ambassador for The One and Only Ivan, the book that has now made the biggest impact on his adult life.
Every year, John does a road trip contest on his blog, where he invites his students to pick a book and he'll take a plush character from the book around to various literary sites. Thankfully, they chose The One and Only Ivan, which was perfect since he already had the plush toy to take on his adventure. One of the stops on his road trip was the zoo in Atlanta where the real-life inspiration for Ivan lived. John had the opportunity to interview the zookeeper Jody and see Ivan's bedroom.
"Jody, the zookeeper, asked me if I'd like Ivan to sign a copy of the book," John says. Of course he'd like that! "Ivan the gorilla put his thumb in a bucket of paint and left his thumbprint on the title page of my book."
When the paperback edition of the book was being developed, the publisher asked if he could have one of John's "signed" books to make a copy of the title page. So now, when anyone buys a paperback copy of The One and Only Ivan, they'll also receive a thumbprint from the actual gorilla inside.
"When you really believe in something, look what can happen!"
In 2013, Katherine Applegate's The One and Only Ivan was awarded the Newbery Medal  for the most distinguished contribution to American literature for children. Meanwhile, John was elected to the Newbery Committee by his colleagues in the Association for Library Service to Children (ALSC), a division of the American Library Association. In 2013, John served on the committee, reading hundreds and hundreds of children's books, to select the 2014 Newbery Medal winner: Flora & Ulysses by Kate DiCamillo.
"It's been so life changing," John says, thinking back on the years since he launched his blog. "It's allowed me so many experiences I never thought I'd have as a teacher or librarian."
John strives to be genuine and authentic through his online presence, keeping his students at the front of his mind whenever he's promoting books, traveling around the country, or interviewing authors. He recently finished interviewing all the Newbery and Caldecott winners for his blog, and is using stories from these interviews to provide backstory for the books his students are reading. John hopes other teachers and librarians will find his research helpful and add it to their own lesson plans.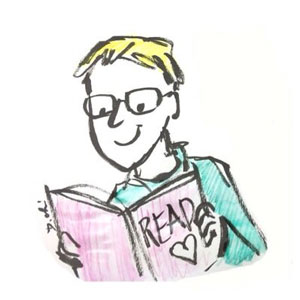 He often collaborates with a third grade teacher named Colby Sharp for Watch. Connect. Read. Recently, Colby and John held a joint celebration for Dr. Seuss with their classes via Skype. One of John's students said, "Mr. Schu knows so many people." To which another kid replied, "Mr. Schu is really famous." John quickly tried to shut down that idea.
"I want them to see me as their librarian," says John.
Advocating for children's books through his blog and Twitter has become an extension of his vocation as a children's librarian, where he volunteers hours of his spare time to his mission of sharing good books with kids. To him, it's all worth it.
"We show kids how to be human beings through children's books," says John. What could be better than that?
So next time you're seeking a "forever book" for yourself or a child, check out John's blog or connect with him on Twitter.
Watch. Connect.Read. Blog: MrSchuReads.blogspot.com
Twitter: @MrSchuReads
Photos courtesy of John Schumacher.
Feature photo: John reading one of his favorite books, The One and Only Ivan by Katherine Applegate. He reads 2,000 children's books every year.
Mr. Schu's online avatar/Twitter profile image is illustrated by Debbie Ridpath Ohi.
Naomi Krueger is a freelance writer and managing editor of Books Make a Difference.  She lives near Saint Paul, Minnesota, where she enjoys gardening, biking, and reading good books. www.NaomiKrueger.com