The artist's studio isn't just a sanctuary for pensive reflection and ideas, but a workshop of endeavors, problem-solving, and a nexus of activity. For nationally-acclaimed children's book illustrator John Parra, his studio is also a living testament to his Latino culture.
John starts his mornings with acrylic paints and sketches strewn on his painting table, his iMac, and his past. Set above his computer desk are a striking series of esqueletos bandoleros set in boxy cross-shaped frames, beloved Dia de los Muertos iconography, that John painted at the start of his career. On his shelves are books on artists like Klimt and van Gogh, children's books by Yuyi Morales and Sean Qualls, illustration market directories, and the art of Robotech.
"My older brother was really good at art, too, and he could draw really cool giant robots," John says, lovingly recalling his childhood. "I would follow his ideas often."
Like many artists, John credits his family for cultivating a love of art and imagination. "When I was very young my father used to draw for us and tell us stories of his time in the army," he says. His mother, a teacher for more than three decades, would buy him sketch pads and markers for his birthday and read to him and his brothers growing up. This fueled his imagination, and as time went on many of his art teachers and mentors from school inspired him to continue progressing in art.
John has his training at the prestigious ArtCenter College of Design in Pasadena, California, to thank for his strong, consistent art style. "I was fortunate early in my art training to have some amazing teachers and mentors who taught me the traditional fine art techniques of realism, perspective, color theory, and composition," John says. He then began experimenting with techniques such as mixed media, collage, and printmaking. "These techniques enabled me to open up and develop a more unique and distinctive visual pallet and approach in my work. I also began studying different styles of art genres."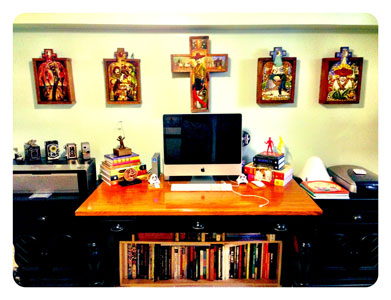 It wasn't long before he fell in love with folkart, yet he craved a deeper emotional connection to the work he was creating. That changed after a conversation he had with Salomón Huerta, then a visiting artist to the school. "He was a graduate whose work reflected his Hispanic background and culture," John explains. "Immediately I felt a connection, and a light bulb went off in my head that I too could infuse my background, culture, and personality into my work." The first project he did following his introduction was the aforementioned series of paintings based on Dia de los Muertos that adorn his studio walls today. "I was so excited about the project I just never stopped. As years have gone by my work has gradually been updated but it still holds on to those inspirational roots from that earlier period."
To date, John's love affair with painting his Latino culture spans 30 years, from his earlier post-college career making fine art paintings, to his present commercial success illustrating multicultural children's books, to other projects that draw from his roots. John recently completed a dream project, the 2017 "Delicioso" Forever Stamp series with the US Postal Service, creating vibrant illustrations of popular Latin American cuisine.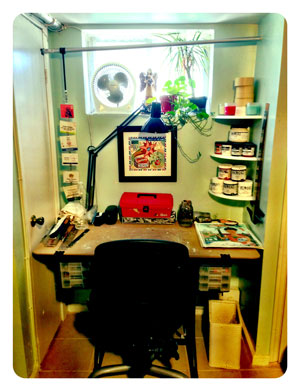 The artist paints on illustration board, a dense paper pulp that is rolled together with adhesive to make a thicker paper, in a process that evokes a painting on wood. "I add different layers of color acrylic paint to a board," he explains. John's board of choice is Crescent brand illustration board, 100# cold press, so the texture of the paper pulp gives the paint a great surface to adhere to. "After about four layers I sandpaper into it to give it a worn and old-fashioned look that I use for the background foundation. Once ready, I transfer the sketch to the board through masking out shapes and painting various elements. As characters and scenes take shape, the final aspect is to add all the shading and detail to complete the art."
John's "analog" process is a fabulous tactile experience compared to the omnipresent digital workflow. Acrylic dries quickly and is a more forgiving medium than watercolor or oils, so he can make adjustments and corrections easily and quickly, a boon when dealing with ever-present publishing deadlines. Still, John has not forsaken the benefits of Photoshop. "I do scan art into my iMac for final touch ups in Photoshop. I also use it to compose sketch compositions by importing drawings and adjusting placement or size and designing final layouts."
Tucked in a corner of John's studio is an impressive collection of guitars. He cranks out his children's book sketches and paintings amidst all his instruments throughout the morning and into midday. Afternoons are filled with exercise both for fun and to prevent occupational injury, and to wind down at the end of the day, there is often strumming on one of the aforementioned guitars.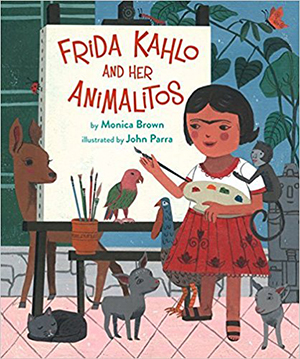 At night, when summoned by those late-night ideas as he's about to fall asleep, John reaches for the pencil and paper he usually keeps at his side. Any one of those ideas could wind up being his next big project. John is a highly-recognized artist and winner of a dazzling array of children's book awards, including two Pura Belpré Honors for Gracias/Thanks and Green is a Chile Pepper: A Book of Colors, and two Golden Kite Awards from the Society of Children's Book Writers and Illustrators (SCBWI) for Gracias/Thanks and Marvelous Cornelius: Hurricane Katrina and the Spirit of New Orleans. His current celebrated work, Frida Kahlo and her Animalitos, written by Latina author Monica Brown, was named to the The New York Times' list of The Best Illustrated Children's Books of 2017.
With so many lauded picture book and other illustration projects under his belt, what's in store for John Parra's studio tomorrow? There's always more generating of ideas, composing another painting, and learning new guitar chords, but John still hopes for more. One dream in particular includes baseball: he'd love to complete artwork for the Los Angeles Dodgers baseball team or the World Series. "I would love to develop an animated series or movie based on characters from my books," he says. "It's all good."

Web: JohnParraArt.com
Facebook: /JohnParraArt
Twitter: @JohnParraArt
John's books
Photos courtesy of John Parra.
Christina Rodriguez is a Latina children's book illustrator and former Air Force "brat" living and working in "Lil' Rhody" (that's Rhode Island to everyone else). She's never without a sketchbook and knows multiple ways to dig up clams at the beach. ChristinaRodriguez.com
First published: December 2017