Jill Biden believes in the power of a story. She also believes in the power of military children. Hearing the story of a young girl's sorrow over losing her military father inspired Biden, wife of Vice President Joe Biden, to form the initiative that became Operation Educate the Educators, a program to encourage colleges to train new teachers to recognize the particular stresses military life places on children.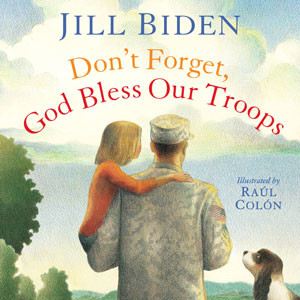 The story of Biden's own grandchildren coping with the deployment of their father, the Bidens' son Beau who serves in the Delaware Army National Guard, inspired Jill Biden to write Don't Forget, God Bless Our Troops. The children's picture book is about her military family's experience, but Biden said she wrote the book for civilians.
"I wanted to create awareness for other American families, not specifically military families because they know these things. They've had a parent deployed," says Biden. "One percent of Americans are fighting these wars, so ninety-nine percent of Americans need to support those who are fighting, who are in the military."
Dr. Biden, a career educator, currently teaches English at a community college near Washington, DC, so it's natural that she wants Don't' Forget, God Bless Our Troops to make a difference for military students.
"I was hoping teachers would take this into their classrooms, that librarians would recommend it to students," she says. "There might be a military child in someone's classroom, and this is just what that child was going through at the time the parent was deployed. That was my whole focus, that other families need to understand this experience."
Biden has used her platform to encourage national support for military families through the Joining Forces initiative, alongside First Lady Michelle Obama. Biden's personal connection to the military lends credence to her message, and her influence extends it to a wider audience.
"When I go and do book signings, there are not just military families who are coming," she says. "There are a lot of American families, who are saying 'Oh, I saw that you wrote a book, so I picked it up and I read it to my kids.'"
Biden knows the difference books can make in the life of a child, having come from a family who loved books. Her voice is strong and clear when she discusses her initiatives for education and military families. It softens and warms when she begins speaking about the books that enriched her childhood and the women who read to her.
"My life was full of books," she says.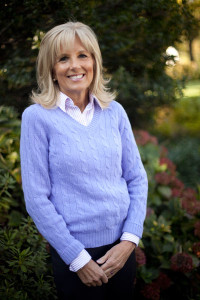 "You don't know how many days I would come home from school and my mother would be sitting in the corner—I can picture her so clearly—reading a book," Biden says. "That had a great influence on me."
Her grandmother, a teacher, also read to her. Biden hesitated to pick a favorite out of so many, but the writing of P.L. Travers came to mind. "I loved Mary Poppins," she says. "Just the magic of it."
As a young girl, Biden also had an affinity for book series and reeled off a list of her literary conquests, "The Bobbsey Twins, Cherry Ames nurse stories, Nancy Drew … I just couldn't wait to get the next number, the next book, and try to make sure I read all the books in the series," she says. "I would go to the library. That was my favorite thing. I would go to the library every week and carry home ten books."
Biden spent many late nights with her books during her teen years. "My mom was so great," she says. "I would be up until one or two in the morning reading in my room. I never got chastised for it."
The girl who read late into the night now encourages her students to be readers and writers.
"As a writing teacher, I feel there's such a strong connection between reading and writing. My students who have been readers are much better at writing because they've seen the written word. They've seen the structure, they know and hear a good sentence," she says, and there are more esoteric benefits as well.
"There are just so many different worlds you can create through literature," Biden said. "That's one of the joys of being an English teacher, quite frankly."
An eager learner as well as a teacher, Biden said she listens to other writers to enrich her own storytelling skills.
"I like to go and hear authors speak," she says. "I find inspiration in that. Recently, I went to hear Sue Monk Kidd and heard her story and how she established the voice of the little slave girl in her story. It just makes me think about what voice I would like to take on, what voice I would like to create. I love hearing how authors write, where they come up with ideas, how they develop their characters."
Biden said the positive experience of writing her first book makes the idea of creating another one appealing.
"I have been thinking about what I should write," she says. "I sort of curl up in a chair by the fire. I can write anywhere, but first I like to just sit and think and then start writing notes, probably the same way any writer does it. You just start with a little seed of an idea and it just blossoms."
Jill Biden on Twitter: @DrBiden
White House profile: www.whitehouse.gov/administration/jill-biden
Joining Forces:
Web: JoiningForces.gov
Facebook: /JoiningForces
Twitter: @JoiningForces
Feature photo by Chuck Thomas, Old Dominion University. Dr. Biden hugs Jaelin Franco, a 9-year-old fourth-grader and military child, from Lee Hall Elementary School after Jaelin introduced Dr. Biden.
Jill Biden portrait by Dennis Drenner.
Terri Barnes is a military wife, mother of three, and author of Spouse Calls: Messages From a Military Life. Connect with Terri on Facebook and Twitter.