Poised to release the seventh book in the Diary of a Wimpy Kid series, best-selling author and illustrator Jeff Kinney continues to marvel at the popularity of his books and remains humbled by the surprises in his own story.
Since the emergence of the first and original Diary of a Wimpy Kid, released in 2007, there have been millions of books sold, an ever-widening fan-base, and three blockbuster movies. Children born in the late 90s and early 2000s will grow up knowing exactly who Greg Heffley is and why it's not great to have the cheese touch.
Kinney never planned for any of this.
A cartoonist-turned-children's-writer/illustrator, Kinney stumbled onto the book publishing scene after years of trying to get his cartoons into newspapers. Kinney says, "I never thought my book would be published to begin with." He had doodled ideas for the Diary of a Wimpy Kid starting in 1998. And, much like the main character of the series, he didn't take the normal route, but it all turned out in the end.
Kinney's light-hearted approach and humor comes through in his stories, which are admittedly inspired by real-life experiences. "I remember trying to create a giant snowball with my best friend," he says, "and ruining the lawn by rolling up the sod." The lawn may have been ruined in his attempt to create something great, but his wildly popular collection of stories has turned that muddy lawn into a worldwide phenomenon.
Recognized for his contribution to the language of a generation, Kinney was among 20 Artists and Entertainers who were identified in 2009 on TIME magazine's list of The World's Most Influential People. Kinney's talent for illustrating and writing humor into the lives of characters kids love has simultaneously, and somewhat unintentionally, created an enthusiasm for reading.
When asked how he feels about the impact his books have had on reluctant readers he says, "It's not something I set out to do, but I'm happy about the result! I wrote for adults, but my books were published for kids."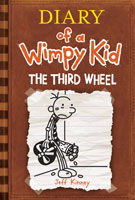 And it is the kids who are waiting expectantly for the latest release. It is the kids who have gobbled up the real-life characters and their struggle with wimpiness, and it is the kids for whom Kinney continues to create.
"I'm always touched when a kid says my books are their favorites," he says. "I've heard from a number of parents of kids with autism who connect with my books, and that's moving."
With eager anticipation, all sorts of kids clamor to the shelves to snatch up Kinney's books, and it is not unlike the affinity they have for another wildly popular creation of his, Poptropica.com. Kinney isn't actually a full-time writer/illustrator. The books are a side job. Kinney is an online game developer and designer, and with the additional demands of the books and the movies, he says, "I am always under water."
There is no indication he can't swim, though. Kinney plans to finish out his goal of ten books for the Wimpy Kid series, and then he is open to other projects.
"I'd like to create a new series," he says, "but I don't have any strong ideas just yet!"
So for now, readers can prepare for the latest in Kinney's creative genius, The Diary of a Wimpy Kid: The Third Wheel, due for release November 13th.
When asked what difference he hopes to make through his books, Kinney says, "I hope my books let kids know that reading can be fun, and that they can move on to bigger and better things."
He is a true example of that message. When Kinney heard no from the newspapers, he remained open to the idea of books. When he intended to publish for adults, he found a rabid audience in children.
There are times in life when the cheese touch seems unavoidable, but taking a page from Kinney's humorous and light-hearted approach can empower even the wimpiest of kids.
Web: www.WimpyKid.com
Twitter: @wimpykid Twitter.com/WimpyKid