The holiday season is here once again, and with it comes the tastes, smells, and merriment of holiday baking. For many, holiday baking is a communal activity. Traditions are passed down through the generations and from friend to friend, rolled in sugar or cut into holiday shapes. There's nothing quite like a family lefse bake or cookie exchange party to get in the holiday spirit. In the center of it all, sometimes worn and dog-eared, sometimes sprinkled with flour or smeared with a smidge of butter, sometimes brand new and brimming with new recipes to try, is the cookbook.
Why use a cookbook rather than finding recipes on the computer? Search "winter holiday recipes" online, and the results are overwhelming: over 20 million results.
"A cookbook is more immediate, more intimate than a computer," says Lee Jackson, cookbook author and publisher. "Hold a cookbook in your hands and easily flip through to find what you are looking for. I like to learn about new ways of preparing food and something about the writer or how the recipe evolved. Cookbooks in ebook format have not held the same fascination for me as a real cookbook."
As Lee flips through the 1963 edition of the Betty Crocker Cooky Book to find her favorite holiday cookie recipe, she stops on a page. "This is a good one," she says, "but it's not the one I was looking for." Rather than using the index, she excitedly peruses the pages. "Here it is! Holiday Fruit Drops: The best cookie of 1945-50. That brings back good memories."
Cookbooks help cut down on the overwhelming recipe options because they are often written with a theme, like Lee's apple cookbooks or her new cookbook with low-sugar recipes Healthy to the Core!.
Healthy to the Core! offers all-natural apple recipes using little or no sugar and whole grain flour. Although Lee has written several cookbooks featuring apples, this one is different. "I was concerned about people eating too much sugar," she says. "The less sugar you eat, the less your body 'wants' it."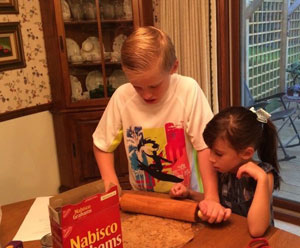 When she was writing Healthy to the Core!, Lee invited some neighborhood children to bake with her to test out the recipes.
Her neighbors, the Kramers, live directly behind Lee. Large pine trees separate their backyards. Lee has watched the children, ages sixteen, eleven, and five, grow up. She even stayed with one of the boys when his little sister was born.
"The Kramers don't have any close relatives living in the area, so I've become the older adult figure. I'm 'Mrs. Jackson' to all of them," Lee explains.
"When I was writing Healthy to the Core!, I wanted to see whether the directions and the outcome of some recipes were appropriate for children, so I asked if they would help. And I wanted to take pictures for my blog. The parents were very agreeable, and the children were excited."
Lee enjoys sharing her new recipes with the neighborhood children. Recently, she invited them to her home  to create a holiday fruitcake from her book. Lee had everything out on the table. As she read through the recipe, the children pointed to the ingredients. Then they began to prepare the recipe.
"It was an enthusiastic group," says Lee. "Nobody stepped back to let the other person do the work. They all wanted to get involved."
The older boy ran the food processor. The younger ones took turns snipping dates with a scissors (as there was only one pair of kitchen scissors). The ingredients were mixed together with a large spoon and poured into a 9×12-inch pan. In order to press the cake mixture into the pan, Lee suggested using a spoon, waxed paper, or their hands. To Lee's surprise, all three of the children used their hands without hesitating for even a second. Lee then placed the pan in the refrigerator so this no-bake cake could chill for 24 hours. Luckily for the kids, Lee had mixed up the same recipe the day before, so it was all chilled and ready to eat. Their hard work was rewarded with a delicious treat.
This year, when mixing up a holiday recipe, Lee suggests using less sugar. Lee hopes her cookbook will make a difference in the health of those people who use it, but she has another important goal, too: teaching. "Get kids cooking—cooking is a lifelong skill," she says.
Following is the recipe for fruitcake from Healthy to the Core!. Dried fruit, graham crackers, spices, and orange juice flavor the cake. No extra sugar is added. The recipe lists not only the ingredients but the equipment needed. Lee's step-by-step instructions are easy for adults and children to follow.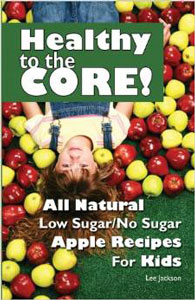 Refrigerator Fruit Cake
Ingredients
4 cups graham cracker crumbs
1 teaspoon cinnamon
1 teaspoon nutmeg
2 cups dried apples or mixture of fruit
1/4 cup dates
1 cup chopped nuts
2/3 cup evaporated milk
1/2 cup frozen orange juice concentrate
Tools and Equipment
2, 8-inch pans or 1, 9 x12-in pan
waxed paper
rolling pin
large mixing bowl
small mixing bowl
measuring cups and spoons
scissors for cutting dried fruit
1. Prepare pans by lining with wax paper.
2. Between 2 sheets of waxed paper, crush graham crackers into crumbs with rolling pin (or use food processor, if age permits). Add to large bowl. Sprinkle in cinnamon and nutmeg. Add fruits and nuts.
3. Mix together evaporated milk and orange juice concentrate. Pour over crumb mixture and mix until all is moistened.
4. Place in prepared pans and pack firmly with hands.
5. Chill in refrigerator for 24 hours. Cut into small squares.
Web: ImagesUnlimitedPublishing.com
Facebook: /ImagesUnlimitedBooks
Twitter: @LeeaJackson
LinkedIn: /in/LeeaJackson
Amy Houts is the author of 60 books including Mealtime Magic: Delicious Dinners in Half the Time. Connect with her on her website, Facebook, Twitter, Pinterest, and LinkedIn.