Lois Lane: Fearless news reporter. Superman's girlfriend. Icon. Gwenda Bond: Rockstar YA author bringing the world the inside scoop on Lois Lane—teenager.
A 1938 creation of DC Comics, Lois Lane has withstood the test of time. She has been portrayed in a myriad of media and her evolution as a character has mirrored changes in her fanbase and society's view of women. Whether a comic book damsel in distress, tireless female reporter in search of truth and justice, or beauty on the big screen, Lois maintains her iconic status due to generations of fans and the artists who mold and shape Lois into the fabric of their stories. She's a great role model even as a teenager—passionate for all the right reasons and willing to take risks to help someone—a heroine without the aid of supernatural powers.
It makes sense that one of the most recent contributors to Lois' legacy is engaging young adult novelist Gwenda Bond. Gwenda portrays the modern teenage version of Lois Lane in her novels Lois Lane: Fallout and Lois Lane: Double Down, published by Capstone's YA imprint Switch Press in partnership with DC Comics.
"Gwenda is the perfect author for Lois Lane's story," says Capstone's global trade marketing director Shannon Hoffman. "Gwenda is cool in her own right and a great role model. She's immersed in this world, out on social media, always reaching out and connecting with her fans, and she's passionate about Lois Lane."
Gwenda has enjoyed the privilege of introducing a new generation of readers to a character she has revered. Writing the novels, she explored what Lois means to her and created a teenage Lois she hopes will inspire and empower young girls to make a difference in their own worlds, even without superpowers.
"Adolescence is a time in your life when you find yourself in a heightened experience of reality," Gwenda says. "Challenges never seem bigger than when you are a teenager." It's a time when kids are trying to find out who they are meant to be and what they are meant to be doing. They consider what it is to be good and they are on a search to find their way to live in the world.
Comic book companies have appealed to this age group of readers for decades, and Gwenda explains, "They want to bring in passionate young readers and they are dedicated and sincere about appealing to young girls."
As a kid, Gwenda enjoyed reading comic books, often stealing her brother's copies. She was drawn to Archie's Girls: Betty and Veronica, Vertigo DC's Sandman by Neil Gaiman, and Swamp Thing. A voracious reader in all genres, she knew from a young age she wanted to write stories. Her journey to become a YA novelist inadvertently armed her with all the tools she would need to write the Lois Lane series.
Gwenda grew up in a one-stoplight town in Jackson County, Kentucky, not Smallville, but close. Her parents were both teachers in math and science, prior to becoming principals. Although her parents were surprised by it, they encouraged her affinity for writing. Childhood science experiments contributed to her curiosity and imagination and heavily influenced her deep interest in science fiction.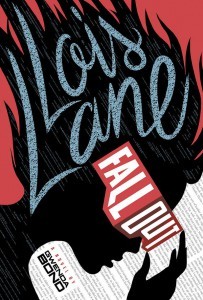 Her Lois Lane novels are on the edgy side of modern science fiction. "I draw a lot of inspiration for YA from technology," she says. "I find it much more organic to embrace the current technology" than to shy away from it.
It took several years for Gwenda to discover her place as a young adult writer, and her journey mirrors a bit of the resilience she hopes to encourage in her readers. In high school she wrote bad poetry about politics. In college she studied journalism and worked on the college newspaper, writing features and editing. She also explored screenwriting.
The surge in YA fiction in the early 2000s created a legitimate and viable place for Gwenda to grow as a writer. Several of her friends wrote in the YA science fiction world and she read all of the books emerging in that genre. The more she read the more she determined, "This is what I want to write. This is where my natural voice is."
Gwenda was introduced to Lois Lane through Margot Kidder's portrayal of her in the 1978 cinematic presentation of Superman. Drawn to the strong female character, Gwenda acknowledges she admired her strength, but she most connected to Lois Lane because of her vulnerability.
"Yes, she is brave, bold and funny, and I'm like Lois in that way," Gwenda says. "Sometimes I seem witty and together but in the next minute, I think, 'Oh God, what did I just say?' That struggle is what makes Lois such a great character. That and because she is never self-hating. No matter if I'm disappointed in myself, I just move on and keep going."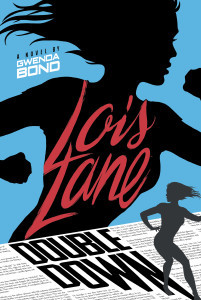 It's this resilience Gwenda hopes to reveal to young girls who read her novels.
Confident Gwenda's books will do that and more, Hoffman says, "The Lois Lane books have the power to increase confidence in young girls. Gwenda has created a strong female role model who stands up for herself, takes chances, follows her dreams, and handles bullying, inspiring young girls to handle their own situations and come out stronger."
Knowing she's writing for an audience potentially looking for a hero of their own, Gwenda says, "I hope it helps that Lois doesn't have superpowers but she is still a superhero. I hope to empower readers to speak up when they see something wrong. I want girls to feel more empowered to do what they know is right. I hope it encourages everyone to be more of a hero."
Website: GwendaBond.com
Facebook: /GwendaBond
Twitter: /Gwenda
Instagram: /GwendaBond
SwitchPress.com
DC Comics
Vertigo Comics
Giving voice to a modern teenager is not new to Gwenda. Most of her writing has centered on ambitious, smart girls. Her books include:
Lois Lane: Fallout
Girl on a Wire
Lois Lane: Double Down
Girl in the Shadows
Girl Over Paris
Read more about her books and other writing on her website.
Meagan Frank is a freelance writer out of Wisconsin who's still polishing her superpowers. An aspiring novelist and mother of three, Frank hopes to soon convince her teens that she's as cool as she tells them she is.