June 17, 2013
Dear Mom and Dad,
Camp is going well. I miss you. I'm sitting on a rock right now, so sorry for the handwriting. We hiked up to this cool space in an aspen grove, and now I am supposed to be writing a letter…or reading a book. So, I'm writing you a letter. I guess it's pretty cool to be writing while sitting outside. It's so different than writing in school. It's super quiet, except for the wings of the hummingbirds. They buzz, you know. There is a twig that cracks every now and then, too, and I do know it has nothing to do with the campfire story they told us last night. At least I hope so.
So, how are you? Gotta go.
Later,
John
—
June 24, 2013
Dear Mom and Dad,
Hi, it's me again. Back at my spot in the aspen grove. Thanks for the care package. My cabinmates loved the treats. Wow, so much to tell you about the things we've been doing. I rode a horse and went swimming. Some of the kids did rock climbing but I didn't really feel like doing it. It makes me nervous. My counselor, Todd, is AWESOME! He is like the most fit guy I have ever seen. He can carry a pack three times bigger than him! He reads us these cool stories at night, too. It's cool having storytime before bed, and he is so funny when he reads to us. We're going on a hike tomorrow to learn survival. We have been reading this book called Hatchet. My counselor is going to show us in real life some of the things we've been reading about. I can't wait. Oh yeah, I don't know if you are going to send another care package :-), but if you do, could you throw in a copy of The Hunger Games? All the kids are reading it, and I am sharing with Joe, but I kind of want my own copy.
Love you,
John
—
July 1, 2013
Dear Mom and Dad,
Greetings parents! (haha) All's quiet on my western rock :-). I have some news to share. I CLIMBED TO THE TOP, rock climbing!!! We went on a long hike, too. I think I won the heaviest backpack challenge. It's just something the kids are doing, but I think I won. I borrowed Sam's copy of Harry Potter and the Deathly Hollows. That thing weighs like ten pounds. I read a few pages, and then I grabbed a copy of the first book so I could start at the beginning. I know…I know. You can say you told me so. Todd and a whole bunch of the other kids have read all the Harry Potters, and they told me they are really good books. I like it so far. Did I tell you we do vespers every night? We sing and read quotes by the fire. It is really neat. Oh, we talked about the Hunger Games in our archery class, too. Super glad I don't have to kill my friends to survive. Sam's pretty sure I wouldn't make it past the first night. He might be right, but I do have some new survival strategies :-). I can't believe there's only a couple weeks left of camp. It has gone really fast.
May the odds be ever in your favor,
John
—
July 8, 2013
Dear Mom and Dad,
I'm getting excited to come home, but I'm going to miss my rock. It's really pretty here. I can see so far over the tops of the aspen trees, and I don't think I noticed that before. Actually, I just noticed there is this enormous tree just at the bottom of the slope. The younger campers went on a Magic Treehouse adventure the other day, and then they wouldn't stop talking about all the ways they would use a treehouse if they had one. Joe and I would build the most tripped out treehouse in that tree. Everyone would want to hang out there. Speaking of, do you think we would ever be able to set up a way for me to hang with Sam or Joe? I'm going to miss them. Tonight is going to be really fun. We have a book character dinner, and I'm going as Percy Jackson. Have I told you about those books yet? So seriously amazing, and I found them in the library they have here at camp! Who knew? Well, it's time to sign off and head back down the trail.
Your son,
John
These postcards were inspired by some of the real-life shared reading experiences that happen at Sanborn Western Camp in Florissant, Colorado.
Reading at camp does have an impact on both the campers and the program. At Sanborn Western Camps, both a sense of self and a sense of community is developed in each of the campers—and one of the ways that's done is through reading and storytelling.
One favorite continuing education training for the staff involves books, too. The camp pulls more than 100 children's books and gives the staff time to choose a favorite or discover a new story. The simple lessons those books teach are then discussed in small groups, and most staff members take a story or two back to their cabins to read and share with the campers—perhaps with an intentional lesson to help the campers learn, or just for the love of the images and the story.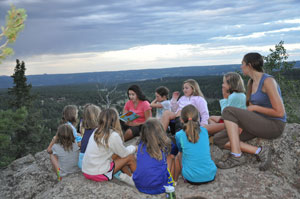 One of the most powerful ways a book can be used is as a way to open the doors to new friendships. Books, like camp, give campers a shared experience when the same book is shared among cabinmates, read aloud on a trip, or made into a sacred part of the bedtime ritual. Oftentimes, cabin counselors will ask a camper, who may have certain deficits in social skills, if they can read her book to the cabinside. That simple act gives the child a sense of belonging and value to the larger community—which, in turn, impacts the overall camp experience. When campers feel like they belong, they are more likely to challenge themselves mentally, physically, and emotionally.
Many campers come to camp with required book lists from school, which many of them read to completion. Yet they also experience a culture that truly celebrates reading for reading's sake. Campers exchange books, read out loud around the campfire, and rediscover the enjoyment of having a "cool" adult read to them. It is not uncommon for campers to listen to or read between four to eight chapter books while they are at camp. For some, the number is much higher.
The American Camp Association has done extensive research on the importance of reading at camp. In 2011, they launched a reading program called Explore 30. The success of the program confirms the benefit of books in a camp setting. It is an intentional step toward encouraging all camps to include reading as an everyday part of camp.
Formal reading programs at camp neither have to feel formal nor be programs. Just like the camp experience itself, the Sanborn Western Camp reading program bubbles up from the well-spring of staffers' and campers' love of books and feeds into the culture of camp: a place to live together in the outdoors, building a sense of self, a sense of community, a sense of the earth, and a sense of wonder through fun and adventure…both on and off of the page.
Web: www.SanbornWesternCamps.com
Facebook:  /SanbornWesternCamps
Twitter: @sanborncamps
Photos courtesy of Sanborn Western Camps. Inset photo by Jessie Spehar.
Meagan Frank is senior writer for Books Make a Difference.
Ariella Randle Rogge is codirector at Sanborn Western Camps in Florissant, Colorado. She has spent the last twenty years working as a youth development professional in the camping industry and in the experiential and secondary education fields. She is a passionate advocate of the Children in Nature movement and uses her expertise in social media to emphasize the importance of outdoor experiences for children. She lives happily in the Colorado woods with her husband and two adventurous young sons.