BookCon is an annual celebration for book lovers. Through exhibit booths, speaker panels, and autographing sessions, readers learn about new book releases and interact with authors, publishers, and other content creators. Attendees include young kids, grandparents, and everyone in between, all sharing a love of books.
At panel discussions, authors and publishing industry professionals speak about writing, publishing trends, and inspiration. Readers learn about favorite authors and how they do what they do.
BookCon 2019 was held June 1–2 at the Javits Center in New York City. Young adult fiction was popular at this conference, and many authors of young adult books are writing middle grade books as well.
A panel called Epic Young Adult featured literary stars Jason Reynolds (Ghost, Long Way Down, As Brave As You), Cassandra Clare (The Mortal Instruments), Tomi Adeyemi (Children of Blood and Bone), and Julie Murphy (Dumplin', Side Effects May Vary).
Bestselling author Julie Murphy talked about being inspired by J.K. Rowling, author of the Harry Potter series.
"As a senior in high school, I remember, I just didn't like reading. I didn't enjoy it," says Julie. "But I discovered the Harry Potter series, and it changed the trajectory of my whole life. And now I'm here at BookCon!"
Now Julie is the one changing the lives of young readers. Her titles feature girls with different body shapes making a difference in their community. When asked about how she feels about the positive impact her books have had on the media representation of girls, she says, "I get teary-eyed just thinking about it."
Many YA authors are also writing for middle grade readers. Julie announced her new middle grade read Dear Sweet Pea on a panel with popular middle grade authors R.J. Palacio (Wonder), Evangeline Lilly (The Squickerwonkers), Rachel Renee Russell (Dork Diaries), and Alyssa Milano (Hope). The group talked about the difficulties of middle school years, their writing process, and how they wanted their books to make a difference through themes of kindness, anti-bullying, compassion, and community activism, and by helping middle grade readers feel understood.
Evangeline Lilly uses her characters to help kids see that it's okay to not be perfect, and that making a poor choice doesn't make someone a bad person.
"That's really one of the biggest messages in The Squickerwonkers," says Evangeline. "You know what? A bad choice might end in a bad result, and things might not go your way if you aren't careful about your choices. But it doesn't make you the villain of the story."
Books can change young readers' perceptions of themselves and help them see they can change the world. R.J. introduced her new graphic novel White Bird about a young girl's experience living during the Holocaust. She asserts that books are crucial sources of information.
"Unless we make it a very purposeful thing to remind young people about things that happened, as hard as it is to deal with it, we really can't save the world," she says. "And I'm all about (information and) trying to save the world."
Like Julie, young readers may be inspired by their favorite authors to want to make a difference as writers too.
As a writer and actress, Evangeline gives this advice to aspiring authors: "I think across the board in any artistic space one of the most important things I would tell you is to just be yourself, and that might change from day to day," she says. "If I tried to write something that wasn't really me, it probably wouldn't be very good."
R.J. adds, "What I tell people is, don't think in terms of writing a book. Every day sit down and try to write one page. One page at a time is how you write a book."
Whether avid readers or future writers, book lovers attending BookCon find access to favorite authors and inspiration for their next reading list.
BookCon
Web: BookCon.com
Facebook: @bookcon
Twitter: @thebookcon
Instagram: @bookcon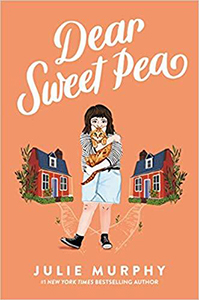 Julie Murphy
Web: JulieMurphyWrites.com
Facebook: /JulieMurphyWrites
Twitter: @andimJULIE
Instagram: @andimJULIE
Elle's BookCon interview with Julie
Evangeline Lilly
Web: TheSquickerwonkers.com
Twitter: @EvangelineLilly
Elle's BookCon interview with Evangeline
R.J. Palacio
Web: WonderTheBook.com
Twitter: @RJPalacio
Elle's BookCon interview with R.J.
YA and Middle Grade Reviews
YA Books Central
Eloni
First Draft Podcast
More from publishers of authors mentioned in this article:
YA
Blink BlinkYABooks.com
Fire Reads FireReads.com
Harper Collins EpicReads.com
Penguin Random House PenguinRandomHouse.com/books/teen-young-adult
Simon & Schuster SimonandSchuster.com/teen
Middle Grade
Harper Collins HarperStacks.HarperCollins.com/blog/category/middle-grade-books
Penguin Random House PenguinRandomHouse.com/books/middle-grade-books-childrens
Simon & Schuster SimonandSchusterPublishing.com/inthemiddlebooks/
Scholastic Kids.Scholastic.com/kids/home/
Feature photo: Evangeline Lilly talks with Elle Cohen at BookCon 2019. All photos courtesy Michelle Ferguson Cohen.
Elle Cohen is a ten-year-old book reviewer, freelance writer, singer, actress, and inventor. She has read the Harry Potter series six times. Elle lives in New York City with her parents and her puppy, Max. Her handle for all social media is @xoeloni.
*Special thanks to Sari Lampert, Deb Shapiro, Emily Bamford and Fallon Prinzivalli.
This article was first published July 2019.