Andrea Davis Pinkney stood in her red shoes and donned a variety of hats and voices to "perform" her 2014 May Hill Arbuthnot Lecture. She talked about her childhood, her writing process, and the influences and inspirations that brought her to this place of recognition.
And then, Andrea likened herself to a pigeon.
A pigeon carries the message. Andrea believes she is only a messenger. Those who read her work know her message is one of hope.
The bestselling, award-winning author has written more than thirty books for children and young adults and is known for bringing to life and preserving African American history.
"Carrying the message means focusing on what's important to me personally— creating stories that celebrate the African American experience," she says. "I hold this ideal in my heart. Hopefully, the message will be delivered through my writing."
Indeed. Newbery-winning children's author Kate DiCamillo shares, "I stumbled across Andrea's Alvin Ailey when I was working as a picker at a book warehouse… and dreaming of becoming a writer. The book lifted my heart… and told me…that hope and joy are for everyone. The book, the words, the deeply-moving illustrations, the astonishing life of Alvin Ailey let me know that it was okay to dream. And more importantly, it was necessary to dream. … Andrea has told us the facts, given us sometimes very hard truths, in beautiful and meaningful ways. Every one of her books holds the promise that she and Alvin Ailey gave to me twenty years ago: Hope and joy are for everyone."
In addition to her work as an author, Andrea has had an impressive career as a children's book publisher and editor. She is currently vice president and executive editor at Scholastic. She launched the first African American children's book imprint at a major publishing company—Hyperion Books for Children/Disney Publishing's "Jump at the Sun" imprint, and the hugely popular Cheetah Girls series.
As a child who struggled with reading, Andrea thought of books as "the worst boogie man ever, whose claws and paws presented doom." In early elementary school, she suffered through the humiliation of round robin reading, and was the only African American student in her class.
At home, her world was full of lively stories. Her mom (an English teacher) and dad (an avid storyteller) asked the school librarian to help find the right books to encourage Andrea. Hop On Pop by Dr. Seuss became her "poetry, word play, singing." And Andrea became "the luckiest girl in the world because a very special librarian showed me the way. She was a fairy god-librarian."
Her perspective on words changed significantly when her dad gave eight-year-old Andrea a special gift: a writing notebook. The idea that she could write her own thoughts, ideas, and stories in a notebook opened a whole new world to Andrea. She soon dreamed of becoming a writer like Mary Richards on The Mary Tyler Moore Show or John-Boy on The Waltons.
Another key childhood influence was her exposure to her parents' involvement in civil rights. Andrea often spent summer vacations at the annual conference of the National Urban League, listening to civil rights lectures, and she spent her birthday at the Congressional Black Caucus.
"Mom and Dad were selfless believers in social justice," says Andrea. "Their work in the civil rights movement was never about them. It was about something bigger than all of us. I liken it to publishing. Words, pictures, pages, and books aren't finite. Though stories are written by authors, the ways in which young readers internalize those stories have very little to do with who wrote them. Books are bigger than their individual creators. Their impact is far-reaching."
When she was eleven, Andrea read Zora Neale Hurston's "How It Feels to Be Colored Me," a descriptive essay exploring Zora's discovery of her identity and self-pride. It was life-changing for Andrea, affirming that a black woman could have such an effect on others through words.
Another book that had a profound effect on her as a young person was To Kill a Mockingbird by Harper Lee. "It made me think very deeply about the complexities and nuances of race in America," she says. "I first read the novel when I was twelve, and I have a distinct memory of feeling different after experiencing the book. I couldn't fully articulate it then, but I knew something inside me had shifted. Now, each time I read the novel again, I come away with new insights."
Andrea studied journalism at Syracuse University's Newhouse School of Public Communications. As she neared graduation, her professor encouraged her to begin submitting her work for publication. Her first published essay was about growing up as a child in small town Connecticut where there few black families. The New York Times paid her $75 to print it.
A few years later, Andrea made her way to New York City and became an editor at Essence magazine, where her job was to review children's books. She quickly ran out of books written by African American authors or that depicted African American stories or characters.
At the time, she was dating Brian Pinkney, a children's book illustrator, and he told her she should write the books.
Andrea and Brian, now married with two children, have written and illustrated many bestselling, award-winning books together, including Alvin Ailey; Duke Ellington; Ella Fitzgerald; Dear Benjamin Banneker; Seven Candles for Kwanzaa; Pretty Brown Face; Sojourner Truth's Step-Stomp Stride; Boycott Blues: How Rosa Parks Inspired a Nation; Sit In: How Four Friends Stood Up By Sitting Down; Hand in Hand: Ten Black Men Who Changed America; and Martin & Mahalia: His Words, Her Song.
Andrea finds ideas everywhere she goes, always keeping her notebook with her and writing every day. She attributes her "acute ideas radar" to her journalism experience.
"For years, I worked as a magazine writer and editor, which required me to be on a constant hunt for intriguing content," she says. "I never know when or how a new idea will come, so I need to be a voracious consumer of books, films, music, theater, newspapers, and popular culture. Ideas often find me. This is what encouraged the writing of the novel The Red Pencil. I'd been doing a lot of reading about the crisis in Sudan, and about the Darfur genocide. News accounts of the mounting atrocities were keeping me up at night. I started to get what I've come to call 'the pull'—the undeniable feeling that I had to write about this topic."
Through Andrea's exposure to LitWorld, a global literacy advocacy organization, she learned that more than 500 million girls and women worldwide can't read or write. "This is especially true in developing nations," she says. "In Darfur, the illiteracy rate among girls is alarmingly high, due to the costs associated with attending school, and the belief that girls are most useful at home, tending to farm chores and household duties, while they prepare to marry."
In The Red Pencil, twelve-year-old Amira wants to learn to read and write, against the wishes of her traditional farming family. A simple gift of a red pencil changes her destiny. Set in 2003 and 2004 at the beginning of the war in Sudan, the book is inspired by true events.
"I grappled with how I could best convey the subject matter," Andrea shares. "One morning at dawn, the novel's main character, twelve-year-old Amira, came to me, whispering her story in a verse narrative. This facilitated the crafting of the story in verse, as a means of insulating the subject matter, without sugar coating it. Illustrations by Shane Evans—drawn to look as if they've been rendered in Amira's own hand—have made the story even more accessible."
Once again, the pigeon focuses on a message of hope.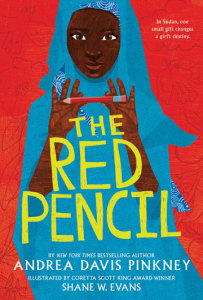 Though The Red Pencil delves into war's ugly reality, "the book isn't all sad. It was important to me to show that hope and celebration can shine, even in the darkest times, and that joy is an important ingredient to change. Amira's world is filled with happy things…like pets, giggles, games, loving parents, sisters, best friends, and school. Her story is one of resilience and love, and the power of the human spirit."
As an author, Andrea visits schools throughout the world. "I've learned that children have tremendous insight and passion," she says. "They want our world to be a better place. But they need the guidance of trusting adults."
Kids who've read The Red Pencil have told Andrea they now understand what's going on in Darfur, and they want to find ways to help.
"This is how healing begins—from the souls of children who are eager for peace. And it reminds me that books do make a difference," says Andrea. "By coming to know the stories of other children who've risen above sorrow, kids everywhere can wake up on a dark morning with hearts and souls filled with hope."
Web: www.AndreaDavisPinkney.com
Facebook: /AndreaDavisPinkney
Twitter: @AndreaDavisPink
Feature photo: Brian Pinkney and Andrea Davis Pinkney at home in Brooklyn.
Inset photos courtesy of Andrea Davis Pinkney.
Lecture photos by Karen Pavlicin-Fragnito.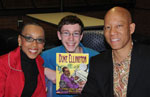 Karen Pavlicin-Fragnito is an award-winning writer and the publisher of Books Make a Difference. She attended the 2014 May Hill Arbuthnot Lecture. Andrea and Brian Pinkney's kind discussions with her teenage son (who has read their work since he was four), piqued her interest in sharing more about Andrea's message of hope. Contact Karen.
This article was first published in January 2015.