Sydney Dickerson has spent most of her life sharing books and encouraging children to read. Her namesake organization, Sydney's Book Club, has donated more than 19,000 books to families, schools, and libraries around the world, with a goal of 20,000 books by the end of 2020. Through story-time videos and encouraging messages for young readers, Sydney promotes reading and learning for kids on multiple social media platforms.
It's an impressive list of accomplishments for an eleven-year-old. Of course, Sydney has strong support and encouragement from her mom, Tiffany, who runs the organization.
In April 2011, when Sydney turned two, Tiffany planned a book-themed birthday party to reflect her daughter's early love for reading. The theme continued beyond the party, and by the end of the following year, the nonprofit Sydney's Book Club was launched.
"I guess you could say it has been a part of my life for as long as I can remember," says Sydney, who recalls the seminal book party and learning to read when she was very young.
Tiffany says the purpose of Sydney's Book Club is to promote early reading and literacy skills for preschoolers and to encourage families to read together.
"Sydney's Book Club began," says Tiffany, "with the inspiration that we'd evoke change in our national reading and literacy statistics, strengthen homes, and create proficient readers … while blending support, play, learning, and books."
As she was cultivating her daughter's love for books, Tiffany was also learning how to operate a nonprofit and communicate its purposes with the world. She says a lot of prayer and planning went into those early days. The club began with free community book club events for parents and preschoolers. The group has continued to evolve, and adapt to the needs of readers, parents, and the communities where they live.
As the club has grown, Sydney has grown too, taking an active role as a reading advocate. Even in the club's early years, she shared messages and videos for young readers.
"Hello, book clubbers!" chirps a four-year-old Sydney in a 2013 video on YouTube. "Today is a great day to read a good book, so join with me and let's make reading fun!"
More recently, eleven-year-old Sydney and her little sister Layla, 7, created a series of alphabet videos to help kids learn the shapes and sounds of each letter. The videos include books and songs to help kids remember the letter sounds. These "Virtual Learning with Sydney" and "Story Time with Sydney" videos are some of the ways the club has adapted to pandemic restrictions. Sometimes their four-year-old brother, Sean, also has a cameo appearance. The club has always been a family affair for the Dickersons.
A large part of the club's mission is to put books in the hands of children and their families, which includes giving books and also encouraging others to give books for special occasions.
Before the pandemic, Sydney's Book Club provided books at preschool book club events in underserved communities, schools, and day care centers, as well as at events with community partners. Health and safety restrictions have moved interactions online but have not stopped the club from getting book donations out to young readers in need of books.
"We've had the opportunity to place more books into the hands of children during COVID-19 by partnering with local food heroes," says Tiffany.
For example, the club donated children's books that were packed into kids' bag lunches and distributed by a community food bank. The book club also put together home libraries for a city housing authority, which then distributed them to families who needed books.
"We have helped build home libraries … and fill the bookshelves of local Title 1 classrooms," Tiffany says. "We've participated in inner city classrooms … A family in our local community traveled to South Africa, and when they returned wanted to send supplies to the children there. So we put together books for preschool and kindergarten classes in Soweto." The overseas donations were pre-pandemic.
Another initiative of the club has encouraged people to pass out books as treats for Halloween, a program they call "Boos for Books."
On Halloween in 2016, Sydney's Book Club took donated books to an elementary school in eastern North Carolina, where many students had recently been displaced and affected by Hurricane Matthew.
"Reading is important because it can take you to happy places when you're sad," says Sydney. "Reading can teach you so much about practically anything." She says she hopes her book club encourages families to spend time together and lets children know reading is "cool." She is encouraged when she sees the work her club is doing.
"I've seen the smiles on children's faces when they receive new books," she says. "It makes me happy and very proud to know that I'm helping and giving back by just doing something that I love."
Tiffany says the group received many requests lately for books about African-Americans and the experience of people of color in America.
"Books can play a major role in helping to begin the conversation regarding race, racial issues, and injustice," she says. "Books provide parents the opportunity to … ask leading questions, discuss differences in characters, and can even help children identify with characters that they look like, all in a language that they can understand."
In her videos, Sydney's talks about all kind of topics including Black History, kindness, and being a military child. Her father is in the navy.
"Sydney's Book Club headquarters will be taken down and put in boxes and moved to a new place," she announced in an Instagram video before the family's latest move. "Some days I like being a military child and other days I don't. … I like my SBC headquarters the way it is. I like my room. I like my house. but I'm going to have to say bye to it all, and I'm kind of sad about that. But we make it flow, we make it work, and that's what we do."
The family is currently stationed in Jacksonville, Florida. They have also lived in Virginia, Pennsylvania, and North Carolina, and look for ways to serve readers and encourage literacy wherever they live.
"First we learn about our community, make friends, and see exactly where and how the book club can be most effective in our new area," says Tiffany, "The number of children and parents we've encouraged to read is countless, and we're happy to say we're still going."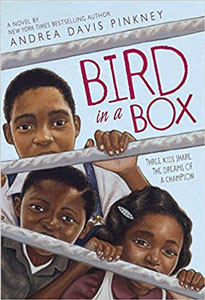 While encouraging other kids to read, Sydney is also an avid reader. She says she finds most books "amazing" and hesitates to name a favorite, but she reels off a handful she's read in the past two weeks, including I Am Malala: How One Girl Stood Up for Education and Changed the World by Malala Yousafzai and Patricia McCormick, and Bird in a Box by Andrea Davis Pinkney.
"I do like books that make me laugh and those that inspire me too," she says.
Sydney has seen reading improve the lives of other kids and also how it affects her own life.
"Reading has helped me make good grades at school and stand out from the crowd," she says. "Because of my love for reading, I would like to be a librarian or a teacher in the future."
Her role as a spokesperson for Sydney's Book Club has made a difference too.
"The book club has helped me to be less timid, more vocal," says Sydney, "and has showed me how blessed I am to have access to a plethora of books. My love for reading has … given me a platform to inspire others to learn and love to read like me."
Sydney's Book Club
Web (Join, Subscribe, Support): SydneysBookClub.org
Facebook (Public): @SydneysBookClub
Facebook (Private Group): @SydneysBookClubMembers
Twitter: @SydneysBookClub
Instagram: @SydneysBookClub
YouTube: @SydneysBookClub
Photos courtesy Sydney's Book Club.
Feature photo: Sydney Dickerson and her siblings, Sean and Layla, create an alphabet learning video for Sydney's Book Club.
Terri Barnes is the author of Spouse Calls: Messages From a Military Life, and senior editor for Elva Resa Publishing, which specializes in resources for military families. More than half of the shelves in her home library are filled with children's books. Sometimes she even shares them with her children.
This article first published September 2020.