The dog-eared page is littered with comments and questions. Glancing back at the notes, the business leader turns to the computer and types in a book-discussion response…a response that has been crafted specifically for the author of the best-selling book on her desk.
"That's a great point you make on page 57, but have you thought about this?"
With a few key strokes, the book-reading experience has gone from an individualized interpretation of a book to a vibrant online conversation.
Launched in January 2012, the 12 Books Group is an innovative online book-reading experience that has found a niche with business leaders interested in personal and professional development. Reading one book each month, the readers interact with one another via online book discussion, and they directly engage with the authors of the books they read.
"In order for leaders to be truly successful," says Dr. Joelle K Jay, a recently-featured author, "they have to learn to lead themselves. The 12 Books Group provides a forum for leaders to focus on themselves and gain new ideas to meet today's new challenges."
Choosing to be a part of a book group is a personal investment. For business professionals who are generally involved with a myriad of responsibilities, taking time for themselves to read a book needs to be worthwhile. The 12 Books Group charges no fee for membership, but as with most things, members get out of it what they put into it. For the 4100 listed members of the 12 Books Group, there are a number of online opportunities for business networking and interaction. It is the goal of the group to have a quality book experience.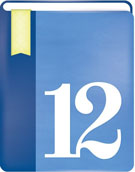 Jacob Paulsen, founder of 12 Books, envisioned a once-a-month, author-led book club that could go well beyond the pages. He wanted to hear what others thought, including the impressions of the best-selling authors themselves.
"Reading is its own learning method," he explains. "Book groups go back a long time. People need social opportunities with like-minded people. People need to bounce ideas off each other and get different perspectives. We are trying to take that to a larger scale than it has ever been before."
With the chosen business-genre focus for the group, the 12 Books Group has filled a niche for both the readers and the authors who are invested in contributing in some way to the business world.
"Authors have told us that this is the most unique opportunity they have ever found to promote a book and engage readers," he says.
Prior to the start of each month's discussion, members are offered a chance to win one of twelve autographed copies of the book they will read. By including the authors of the books as discussion facilitators, group members also enjoy an interactive experience beyond the scope of the average book group. The authors welcome the 12 Books members via video. Using both a web site, www.12booksgroup.com, and a space on Goodreads, as the 12 Books- Business and Personal Development Book Club , the 12 Books Group offers a number of ways for members to plug in to the shared experience.
Discussions happen weekly on Goodreads, while supplemental and bonus material is made available to members on the web site. At the conclusion of each month, group members are encouraged to attend the author-led webinar as well.
"We will read 12 books in 2013," Paulsen explains, "We have a lot of ideas for how to build on the current format. Chief among those is trying to determine a model to create local chapters of book group members around the world that physically meet each month in addition to the online interaction."
Most people who engage in book groups are often after an enhanced version of a book they've read. While readers absolutely learn during the privacy of solo-reading, there is something that happens when readers come together to share the book-reading experience. Only through book groups can readers experience extended discussions, layers of questions, and challenging viewpoints about shared ideas. The online, interactive version of the author-led book group for the 12 Books Group takes the shared experience to an entirely new level.
Featured book for November: Reviving Work Ethic by Eric Chester
Featured book for December: Uncertainty: Turning Fear and Doubt into Fuel for Brilliance by Jonathan Fields
Web: www.12BooksGroup.com
Goodreads: www.Goodreads.com/group/show/15012-12-books—business-personal-development-book-club
Twitter: @12Books Twitter.com/12Books
Youtube (author videos): www.Youtube.com/playlist?list=PLF4DFA2077D558941